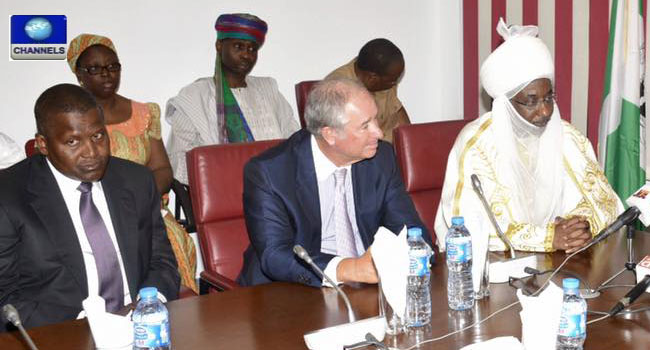 The Nigerian President, Muhammadu Buhari has held talks with the emir of Kano, Muhammad Sanusi II, Africa's richest businessman and the President, Dangote Group PLC, Mr Aliko Dangote and the Co-founder of Blackstone Group, Stephen Schwarzman.
Before the closed-door meeting held at the Presidential Villa, the top Business executives and the Kano traditional leader came into the Villa at about 1:00pm, local time, and joined the President in the Friday Jumat prayers.
After the prayers they retired into the President's office for a meeting that held for about an hour.
"To Invest In Nigeria"
Also present at the meeting were the Vice President, Professor Yemi Osinbajo, the Chief of Staff to the President, Mr Abba Kyari.
Although details of the meeting were not made known to reporters, it is believed that it may have centred on investments and job creation. An earlier meeting between the business moguls and the Senate President, Dr Bukola Saraki, had centred on their desire to commit more funds into different investments in Nigeria.
Dr Saraki had assured Mr Dangote, Mr Sanusi and Mr Schwarzman of the Senate's commitment to enacting appropriate legislations to create attractive business environment in Nigeria.
The Senate President said the 8th Senate would concentrate on commercial aspects of the nation's laws, having successfully reviewed the criminal aspect in the 7th Senate.
Saraki said: "I congratulate you for the first step you have taken in coming to invest in Nigeria and to reassure you that as far as we are concerned, the Senate will give support in any way we can to make legislations that will make investing in Nigeria conducive.
"One of our priorities in the legislature is to look at the private sector and the business environment because some of our old laws have not been reviewed and that is why we are setting up committees to look at and make it more interesting and attractive to invest in Nigeria.
"In the Seventh Senate, we have done a review of the criminal aspect of the laws and brought them up to date and now we are dealing on the commercial side".
During his campaign, President Buhari had promised to explore all avenues to create more jobs for Nigerian youths and grow the economy through foreign direct investments.