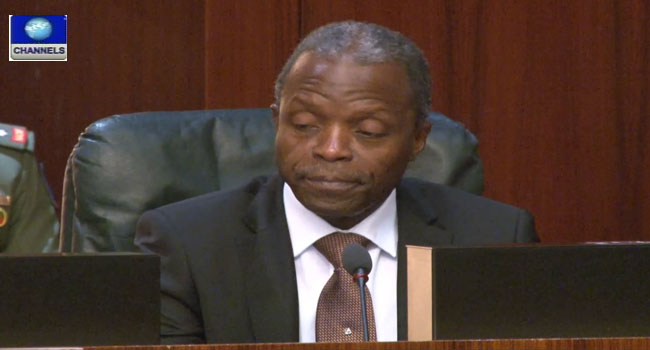 Nigeria's Vice President, Professor Yemi Osinbajo, says the Treasury Single Account policy of the Federal Government has come to stay, as it will address issues of non-transparency especially among revenue generating agencies.
Addressing a gathering of chartered accountants in Abuja on Wednesday, the Vice President gave an analysis of how the nation's growth indices had improved over the years without a direct impact on the common man.
"The growth recorded in the past 16 years did not translate into job creation and poverty reduction for Nigerians," he said.
Professor Osinbajo also frowned at the activities of revenue generating agencies that did not remit funds into the Federation Account as and when due.
He decried a situation where the Nigeria National Petroleum Corporation used the sum of $1.8 million to pay staff salaries for a period of 16 months.
Chartered accountants from various walks of life gathered at the nation's capital to deliberate on issues that would help improve their service to the nation and add  impetus to the present administration's anti-corruption war.
The Vice President was on hand to give the Federal Government's support to members of the profession and also inform them of what was expected of them.
To reverse the trend of non-remittance of funds to the Federation Account, he highlighted adjustments that the present administration hoped to implement to make life more meaningful for Nigerians, one of which was the introduction of a Treasury Single Account.
On Tuesday the chartered accountants pledged their support for the anti-corruption war of President Muhammadu Buhari, with efforts focused on restoring greater probity, prudence, transparency and respect for financial regulations in the management of national resources.
Members of the Institute of Chartered Accountants of Nigeria made the Promise at a meeting with President Buhari at the Presidential Villa.
President Buhari had warned that with declining prices of oil exports, which remain the mainstay of the nation's economy, Nigeria must begin to properly manage its available resources or face developmental stagnation and decline.