UN General Assembly: Buhari Restates Commitment To Rescuing Chibok Girls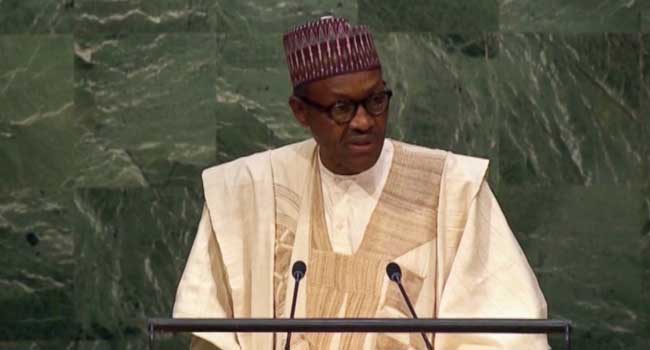 President Muhammadu Buhari has reaffirmed his administration's commitment to rescuing the Chibok girls alive and unharmed.
The President gave this assurance on Monday in his address to the 70th United Nations General Assembly in New York.
While acknowledging the threat posed by Boko Haram terrorists to sustainable development in the West African region, President Buhari condemned the sect's murderous activities perpetrated under the cloak of religion.
"Boko Haram's war against the people of Nigeria, Chad, Niger and Cameroon may not attract as much worldwide attention as those in the Middle-East but the suffering is just as great and the human cost is equally high.
"This is a war about values, between progress and chaos, between democracy and the rule of law. Boko Haram celebrates violence against the weak and the innocent and deplorably they hide behind their interpretation of Islam. Boko Haram is as far away from Islam as anyone can think of," he said.
He also detailed the action taken so far by Nigeria and its allies in the Lake Chad Basin Commission to rout the insurgents, and called for a global strategy towards defeating the terrorists.
"Nigeria and her neighbours, Cameroon, Chad, Niger plus Benin are working together to face this common threat within the regional framework of the Lake Chad Basin Commission.
"We have established a Multinational Joint Task Force to confront, degrade and defeat Boko Haram. We have driven them away from many of their strongholds, killed or captured many of their operatives or commanders and freed several hundred of hostages.
"One of our major aims is to rescue the Chibok girls alive and unharmed," he added, drawing an applause from the audience.