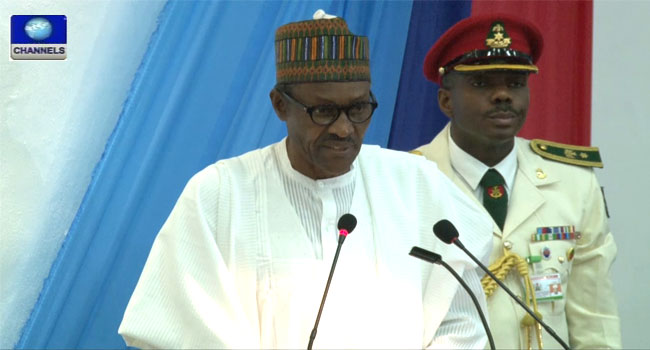 President Muhammadu Buhari has reiterated his commitment to ending insurgency in Nigeria, saying it is 'a task that must be done'.
The President also gave conditions under which the government would negotiate with the Boko Haram terrorists.
He told reporters in Abuja on Friday that 'unless there is an evidence that the abducted Chibok girls are alive' he would not go into any negotiation with any group or persons fronting for the Boko Haram.
The over 200 girls were taken from their school's dormitory on April 14, 2014 by members of the Boko Haram sect.
The President renewed his pledge to defeat the insurgents, saying that the Nigerian Armed Forces will defeat the Boko Haram by December this year.
President Buhari said: "As soon as the dry season comes, which is by the end of the year, Boko Haram will virtually be out of their main strongholds and that will be their waterloo".
In the past few months, Boko Haram has wreaked havoc on residents of the north-east, particularly in Borno State, leaving many dead, but the President said that there was still hope, as the Army had been adequately mobilised to pursue the war against terrorism.
He said that if the Boko Haram was not defeated in December, he would not resign, but that he would stay and fight it out.
The President had in August mandated the Service Chiefs to terminate the activities of Boko Haram in the country before the end of the year.