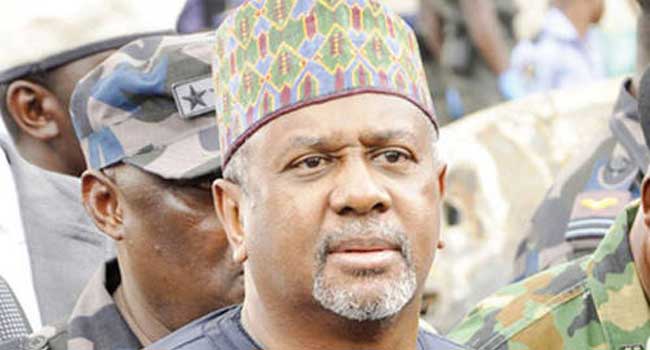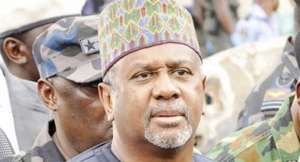 The operatives of Department of State Service (DSS) on Monday morning arrested the immediate past National Security Adviser, Colonel Sambo Dasuki (Rtd) in Abuja.
A Federal High Court sitting in Abuja had fixed December 3 for the hearing of the motion filed by the Federal Government seeking to revoke the bail granted to the former National Security Adviser, Colonel Sambo Dasuki.
At the resumed hearing of the suit, lawyer to the federal government, Mr Mohammed Diri, told the court that a notice of appeal has been lodged at the Court of Appeal challenging the judgment of the court granting bail to the former National Security Adviser.
The former NSA was charged to court with illegal possession of arms following a siege to his Abuja home and subsequent arrest in July. The charge against him was later expanded to include money laundering.
But a Federal High Court in Abuja granted Mr Dasuki permission to travel abroad for medical attention pending the commencement of his trial on the November 26 and 27.
Ruling on the application filed by Mr Dasuki, Justice Adeniyi Ademola granted the former National Security Adviser a period of three weeks within which to take care of his health abroad.
However, few days after this ruling, the home of Colonel Sambo Dasuki in the nation's capital, Abuja was surrounded by men of the DSS and the siege was described as an attempt to ensure that he did not leave the country, as the former NSA accused the Federal Government of abuse of power.
The DSS debunked the claim that its operatives invaded the home of the former National Security Adviser in defiance of a court order granting him permission to travel abroad for medical treatment.
The DSS in a statement, explained that the action by its officers is caused by the refusal of Mr. Dasuki to honour an invitation by a committee investigating his alleged involvement in the 2 billion dollars arms procurement process by the past administration.
The statement added that his refusal to appear before the committee compelled the DSS to adopt a legal means to ensure his attendance.
"Sambo was initially arrested and charged to court for unlawful possession of firearms and money laundering, for which reason his international passport was seized and on the order of the court, returned to the registrar for custody.
"What has however brought the seeming standoff between Sambo and the Service, despite the court-ordered release of his international passport on 4th November, 2015, is his refusal to appear before a Committee undertaking the investigation of an entirely different case." the DSS said.
The former National Security Adviser (NSA) Colonel Sambo Dasuki, denied ever receiving any invitation letter to appear before a committee set up by the current administration to investigate procurement processes relating to any arms transaction by the last administration, under which he served.