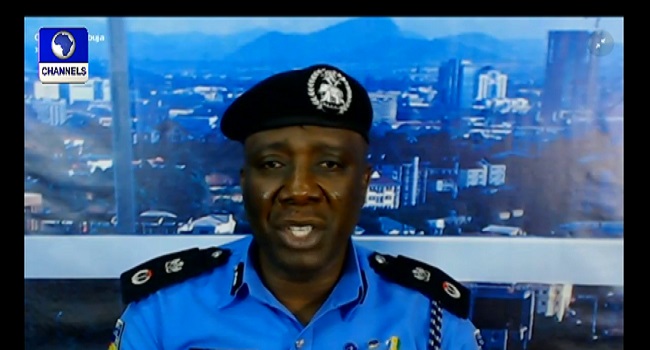 The Commissioner Of Police of the Federal Capital Territory (FCT) says Police have heightened the security level in Abuja following the alert received that the Boko Haram sect plans to attack churches, mosques and markets, using girls.
Speaking On Channels Television's Sunrise Daily, Mr Wilson Inalegwu said that the Police have continued to build partnership and strategic relationships with critical stakeholders and sister agencies like the DSS, Military Guards Brigade, Civil Defense Corps among others.
The team, according to the Commissioner of Police, has the mandate to reassure the citizens of their safety.
"We have advised our people to be vigilant, watchful and observant because when you observe any suspicious activity that keeps occurring around your neighborhood, you should have the presence of mind so that you can report them promptly to the appropriate security agencies.
"We have provided help lines that members of the public can reach us through.
"We have four help lines for the FCT Control Room which are 11 digits and we have made it simple for members of the public," he explained.
In response to questions about the effort of the Police to improve the effectiveness of help lines, Mr Inalegwu disclosed, "The Inspector General of Police, Solomon Arase, sent some communication experts to my office to discuss the issue and what should be done about communication."
He further said that the Police had held meetings with various religious groups; Christians, Muslims, traditional rulers and tribal groups. "I believe working together with these groups, having these synergies, collaboration, partnership, will prevent any attack on the FCT", he said.
Vigilant Of 'Golf Cars'
CP Inalegwu also commented on the authenticity of the intelligence report on the planned attack on the FCT by insurgents. "Considering the period we are in, usually, we receive intel from various sources," he said, adding that there is a need to keep the public well informed so that they can play their part.
"There is no need for fear and apprehension," he said, giving a detailed explanation of the roles played by the Police in educating the public.
"We have been meeting with various groups to sensitize them, we have had meetings with national road workers, Luxurious Bus Owners Associations among others.
" We have advised schools to provide identification of students, to emplace perimeter security fence, we also advised them to be vigilant.
"We have also told them to be vigilant of Golf cars and people carrying laptops.
"We also emphasized that when people close from any place of worship, the flow should continue so as not to provide sitting target for these dangerous elements and not to allow hawking around any place of worship.
"The IGP has also issued directives to all CPs to continue to engage different sectors of the public", he added.