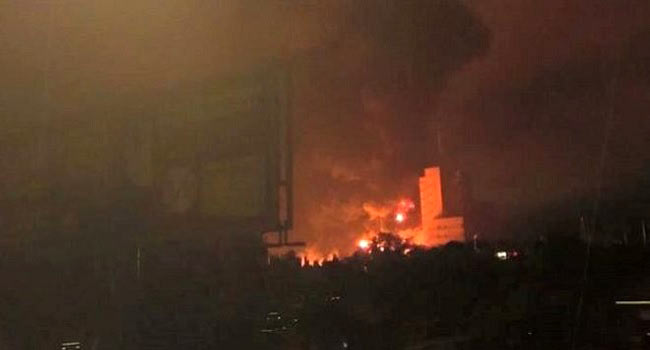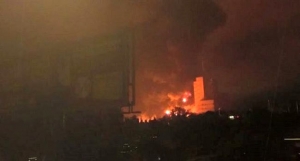 Fire has gutted Abdulkadir Abdullahi Kure Ultra Modern Market in Minna, the capital of Niger State on Sunday.
Properties worth billions of Naira were destroyed including cash. 50 shops were completely burnt down.
The incident occurred at around 1AM on Sunday morning and was blamed on the use of generators because as at the time of the incident, there was no light from the normal electricity supply channel.
Some of the affected victims in an interview with Channels Television expressed shock over the incident describing it as very unfortunate.
Mr Babale Abubakar disclosed that the marketers had earlier complained about inability to access roads in case of incidents like this adding that the fire service men came, but they couldn't do anything.
Investigation revealed that most of the victims lost millions of Naira in cash due to public holidays and weekend as they could not go to the bank for deposits within the period while expressing bitterness over lack of fire fighting equipment in the market for prompt response.
One of the affected victims, who lost about 40 million Naira cash in foreign currency (Dollars), Mr Salisu, was said to have collapsed on his arrival at the market and was rushed to an unidentified hospital for urgent attention.
But an eyewitness told Channels Television that Salisu had changed the currency so as to travel to Togo between Saturday and Sunday (January 2 and 3) to purchase goods.
The victims, however, appealed to the State Government and relevant agencies, to as a matter of urgency, come to their aid with the view of cushioning the effect.
They called on the state government to also help them renovate the building and assist them financially.
"We are appealing to government at every level and other relevant bodies to please assist us renovate the shops urgently before other assistance can be rendered, so that we can start afresh because we lost everything" one of the victims said.
The Niger State Deputy Governor, Ahmed Ketso, had earlier visited the market to sympathize with the affected victims, where he held a meeting with the Executive of the market, National Emergency Management Agency and Niger State Emergency Management Agency (NSEMA) to take inventory of what was lost in each of the shops with the view of coming to their aid.
Mr Ketso directed them to compile the list and access everything through Chanchaga Local Government Area to the NSEMA, which would be forwarded to the state government immediately for appropriate action.
He also urged them to take it with good faith praying that such will not happen again.