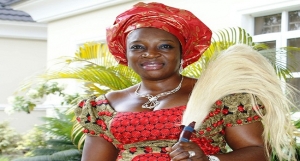 A former Senator, who represented Anambra Central Senatorial District before her election was annulled by a court, Uche Ekwunife, has defected to the All Progressives Congress, APC, from the Peoples Democratic Party, PDP.
Mrs Ekwunife, in an interview with Channels Television on Friday, said she defected because the senatorial primaries were shifted indefinitely by her former party, the PDP in protest over the arrest of the National Publicity Secretary of the party, Olisa Metuh.
The Economic and Financial Crimes Commission (EFCC) had on Tuesday, January 5, arrested the National Publicity Secretary of the Peoples Democratic Party (PDP), Mr Olisa Metuh.
A statement issued by the Special Assistant to Mr Metuh stated that he was arrested on Tuesday morning at about 10:00AM at his home by four officials of the EFCC and was taken away in an unmarked white Hiace bus.
The statement added that the officials told the opposition party spokesman that he was being invited on a friendly note to answer questions at the anti-graft agency's headquarters in Abuja.
Mrs Ekwunife added that since the Independent National Electoral Commission (INEC) said there could not be fresh candidate for the election, shifting the primaries, where she would have been endorsed for the exercise, might affect her candidacy under the PDP.
According to her, she decided to take a walk to the APC to actualise her ambition.
Mrs Ekwunife added that she is returning to the Senate to complete her contract with the people in her  senatorial district.
The Appeal Court sitting in Enugu, the Enugu State capital, had on December 6 ordered the INEC to conduct a fresh election in the district within 90 days.
Delivering the judgment, Justice Datijo Yahaya said that the election of Mrs Ekwunife on March 28, 2015, did not meet the prescription of the Electoral Act.
Mrs Ekwunife had contested alongside the APC candidate, Senator Chris Ngige, who is now the Minister of Labour and may not be vying for the Senatorial seat.