Kerry Lauds Buhari's Anti-Corruption Drive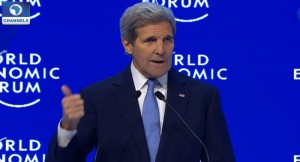 The United State Secretary of State, John Kerry, has given President Muhammadu Buhari's anti-corruption campaign a pass mark in faraway Davos, Switzerland, at the ongoing World Economic Forum.
Mr Kerry in his speech at the forum, made reference to President Buhari's fight against corruption in Nigeria and how individuals kept money meant for arms deal.
In his words: "It has been reported that over 50 people including government officials stole over $9 billion in Nigeria".
He added that money that was meant for arms to fight the Islamist sect, Boko Haram, was kept by Generals in the most populous black nation in the world.
He emphasised that "today, corruption has grown at an alarming pace which threatens global growth, global stability and indeed the global future".
"Obviously, corruption is not a new problem.
"Every nation has faced it in one time or another in its development.
"America's own founding fathers knew the threat of corruption all too well, warning of the dangers that it posed to democratic governance.
"But today, corruption has grown at an alarming pace and threatens global growth, global stability and indeed global future.
"When Nigeria's President, Buhari, took office last spring, he inherited a military that was under-paid, underfed and unable to protect the Nigerian people from Boko Haram.
"One reason is that military budget was finding its way into the pockets of the generals. And just this week, we saw reports that more than 50 people in Nigeria, including former government officials, stole nine billion dollars from the treasury," he told the gathering.
The US Secretary of State further stressed that there was absolutely nothing more demoralising, dis-empowering to any citizen than the belief that the system was rigged against them.
"Corruption is a radicalizer because it destroys faith in legitimate authority," he added.