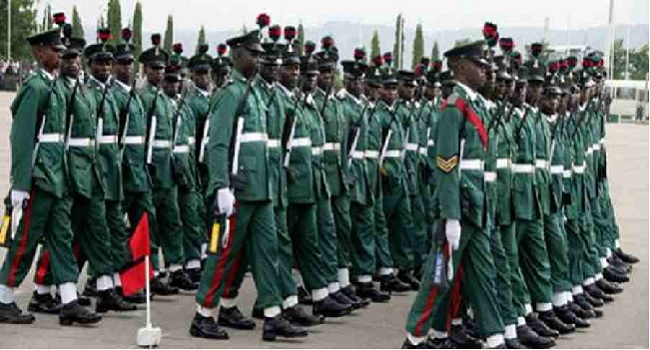 The Nigerian Army has asked its personnel to be above board in conduct and proficiency in the discharge of their duties.
The Commander, Training and Doctrine Command of the Nigerian Army, Major General Mobolaji Koleoso, made the demand while addressing 143 lieutenants who were about to write promotion exams to the rank of captain.
General Koleoso told the officers that the exams were to test the ability of officers at administering human resources at various formations.
He admonished the officers to ensure that Army protocols and discipline were strictly adhered to at all times before, during and after the exams.
According to him, those in the war front would also be included at their various posts.
In his address, the Grand Officer Commanding Two Mechanised Division, Adekunle Fajuyi Cantonment Ojoo, Major General Laz Ilo, also described the examination as pivotal to the platoon commanders, as it would build their competence to meet contemporary challenges including those in the northeast where military personnel are fighting insurgency.
A total of 246 candidates from all the Army formations in Nigeria would be examined to proceed from lieutenants to the rank of captain.
While 143 of them were present at the officers mess of Two Mechanised Division, Agodi in Ibadan, the Oyo State capital, the remaining 103 would be tested at their various posts in Yobe, Borno and Adamawa States, as they fight insurgents.