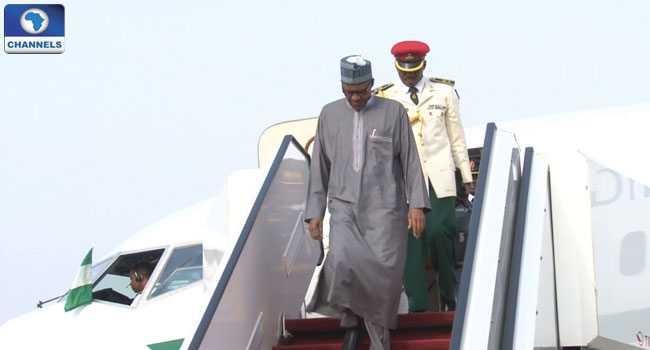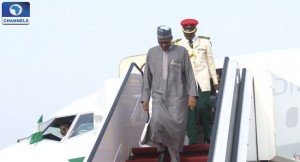 President Muhammadu Buhari is back in Nigeria after a week-long official visit to Saudi Arabia and Qatar.
The presidential jet arrived at the Nnamdi Azikiwe Airport, in the nation's capital, Abuja, at about 5:30pm local time, where the Inspector General of Police, Mr Solomon Arase, and the Minister of the Federal Capital Territory received him.
The presidential guard was also on hand for a brief airport ceremony to welcome him.
The President was in Riyadyh for talks with King Salman Bin Abdulaziz Al Saud and senior officials of the Kingdom of Saudi Arabia.
Talks focused on how to achieve greater stability in the price of crude oil exports.
In Qatar, President Buhari held talks with the Emir of Qatar, Sheikh Tamim Bin Hammad Al-Thani, which culminated in the signing of a Bilateral Air Services Agreement (BASA) to pave way for direct flights between major cities of both countries.
Both countries also signed an agreement to avoid double taxation and tax evasion on the sideline of President Muhammadu Buhari's state visit to Qatar.
At a meeting with the business community in Qatar, President Buhari also assured them that his government would remove any impediment that could hinder investment in Nigeria.
The Nigerian leader also met with Nigerian community in Qatar where he urged them to urged them to rekindle the spirit of patriotism and selfless service to encourage more foreign investments.