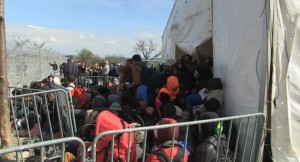 Turkish and EU leaders are in Brussels for an emergency summit on tackling Europe's migrant crisis.
The EU aims to stem the flow of migrants and plans to declare the route north through the Balkans closed.
It will press Turkey to take back economic migrants and has pledged to give Ankara €3 billion (£2.3 billion; $3.3 billion).
Last year, more than a million people entered the EU illegally by boat, mainly going from Turkey to Greece, causing the worst refugee crisis since World War Two.
Some 13,000 are stranded on Greece's border with Macedonia.
The BBC reports that the EU states remain divided over their response to the crisis with strains showing this year even in Germany and Sweden, seen as the countries most open to refugees.
Anti-migrant parties won a general election in Slovakia on Saturday which saw the far right gaining seats.
Migrants Continue to Arrive
German Chancellor, Angela Merkel and Dutch Prime Minister, Mark Rutte, met their Turkish counterpart, Ahmet Davutoglu, at the Turkish embassy in Brussels late on Sunday to prepare for the summit.
The summit will be in two parts – the first session will involve Turkey, while the afternoon meeting will be of EU leaders seeking to reach a common approach to the crisis.
The EU is expected to ask Turkey to take back thousands of migrants who do not qualify for asylum. In return the EU will discuss plans to resettle in Europe some refugees already in Turkey.
Some of the stranded migrants told BBC that they would commit suicide if asked to return to Turkey.
More than 2,000 migrants continue to arrive daily in Greece from Turkey.