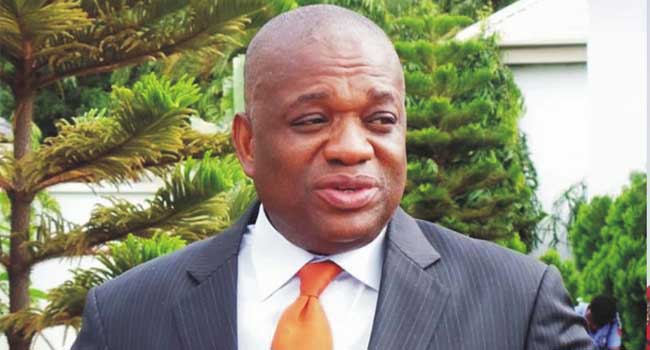 The Supreme Court in Nigeria has given the Economic and Financial Crimes Commission (EFCC) a 'go-ahead' to prosecute the former Governor of Abia State, Dr. Orji Uzor Kalu, on a 107-count charge bordering on corruption.
The charge predicated on alleged complicity of the former Governor in money laundering and illegal diversion of public funds of about 5.6 billion Naira.
Mr Kalu was alleged to have perpetuated the fraud between 1999 and 2007 while he was the Governor of Abia State.
The anti-graft agency had brought Mr Kalu before the Abuja Division of the Federal High Court on July 27, 2007. But through various interlocutory applications Mr Kalu had frustrated moves to open the case.
He had challenged the competence of the charge against him, as well as the jurisdiction of the High Court to hear and determine the case.
After the the trial court refused to quash the charge, Kalu, took the case before the Court of Appeal in Abuja which in a unanimous judgment, upheld the competence of the charge.
The Appeal Court stressed that the High Court had power to exercise jurisdiction on the trial, a ruling that Mr Kalu was not satisfied with.
He approached the Supreme Court, requesting that it set-aside the concurrent verdicts of the two lower courts.
The former Governor, through his lawyer, Mr Awa Kalu, pleaded with a five-man panel of Justices of the apex court, headed by the Chief Justice of Nigeria, Justice Mahmud Mohammed, to quash the criminal charge against him.
He contended that "the EFCC failed to establish a prima-facie nexus linking him to the ingredients of the offence contained in the charge and that the proof of evidence that the anti-graft agency presented against him did not nail him to the commission of any crime".
In a unanimous judgment on Friday the Supreme Court dismissed the appeal, asking the EFCC to carry on with the case.
Delivering the lead verdict, Justice Suleiman Galadima upheld the Court of Appeal's decision, saying that the apex court was satisfied that the former Governor had a case to answer, pertaining to allegations that were levelled against him by the EFCC.