Farmers In Anambra Get Value Chain Development Training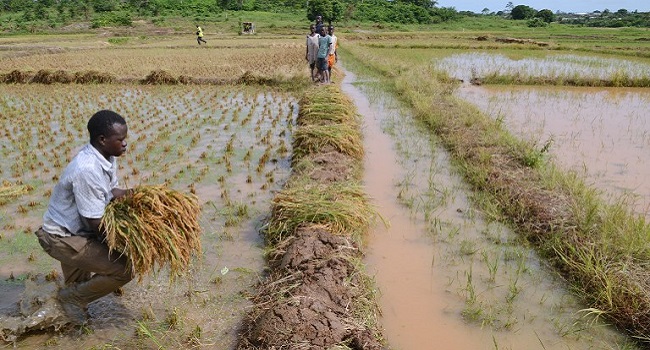 Anambra State Ministry of Agriculture has begun the training of over 100 farmers from the three senatorial zones of the state on the benefits of Agricultural Value Chain Development in the area of rice production.
The two-day training in Awka, done in partnership with International Fund for Agricultural Development (IFAD), exposed farmers to the strategic vision of strengthening the agricultural sector in order to achieve food security, increase production.
It will also help expand and improve rural economy for employment and income generation and most importantly, increase food exports while reducing food importation.
Pursuing Commercial Agriculture
The State Commissioner for Agriculture, Mr Afam Mbanefo, said that the ideas generated in the training would help accelerate agricultural growth and its sustainability in line with the vision of the state government in pursuing commercial agriculture, especially in rice production.
The training would help accelerate the commercial production of rice to the point that the state would become the third producer of rice in Nigeria, Mr Mbanefo said.
According to him, the training will encourage farmers to produce more, knowing that there is a waiting market for their produce.
In the programme, the consultant trainer, Mr Aderemi Osijo, maintained that the active participation of government and off-takers, whose support in providing technical assistance and the market for the sale of the mass produced rice, would go a long way in ensuring that there would not be any missing link in the value chain.
Mr Osiji also emphasised the need for incentives in the Value chain development programme to make it attractive to people, especially youths to be part of the programme.
Farmers and off-takers expressed satisfaction at the training, maintaining that their expectations are high to see production gain momentum.
With government support and the off-takers market opportunities present, it is necessary that farmers swing into action and begin massive rice production for commercial purposes, as the value chain still revolves around benefits in terms of income generation, job creation and food sufficiency.