No Plans To Sell Refineries, Kachikwu Tells Nigerians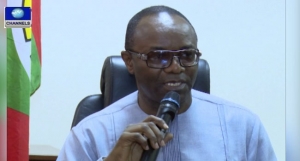 The Federal Government has no plans to sell Nigeria's refineries to private owners, an official has said.
The Minister of State for Petroleum Resources, Dr. Ibe Kachikwu, during an official visit to the Port Harcourt refinery in Alesa Eleme in Rivers State.
"We are not inviting foreign partners to take over the refineries, we do not have the funds.

"Even now that they are working, they are probably working at about 60 per cent or below capacity (and) we need to upgrade these refineries, get them to a level where they are doing at least 90 per cent performance (and) it requires money," he said.
The Minister revealed that the total investment for the process was in excess of $700 million, lamenting that the government does not have such fund.
Speaking in company of some senior officials of the NNPC on Saturday in Nigeria's southern region, he hinted reporters that he was on a tour of the nation's refining facilities.
Mr Kachikwu explained that the call for foreign partners was to get technical support to upgrade Nigeria's capacity to achieve consumer quota and export in the course of time.
"What we've now done is to find a very creative way (for which we should be praised actually) of bringing in investors who will come in and work with our team here who have the skills, to reactivate and upgrade facilities in these refineries and to help us provide technical support," he said.
The Petroleum Minister also told reporters that the Federal Government had also changed the refining modules such that refineries pay for their crude with the payment credited to the Federation Account.
He commissioned the crude line into the tank of the refining company, disclosing that the target was to get the country's refineries up and running at full capacity.
While some Nigerians hoped the refineries run at optimum capacity, the Minister believed that with the right strategy, importation of petroleum products would gradually fade away.