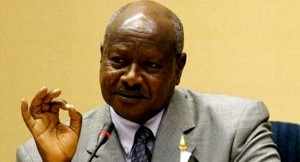 There was mild drama at the Ugandan President's inauguration in the capital Kampala where western delegations attending the ceremony walked out in protest.
US, European and Canadian diplomats left abruptly when Mr Museveni began making disparaging comments about the International Criminal Court (ICC).
The US State Department says they had also objected to the presence of Sudan's Omar Al-Bashir at the ceremony. Mr Bashir is wanted by the ICC on charges of genocide.
Thursday's inauguration – the fifth since Mr Museveni took power in 1986 – was attended by leaders from Chad, Ethiopia, Kenya, Somalia, South Africa, South Sudan, Tanzania and Zimbabwe.
In his address, Mr Museveni described the ICC as "a bunch of useless people" saying he no longer supports the institution.