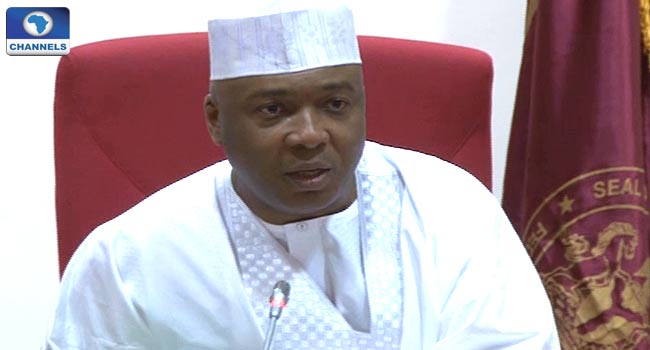 The trial of the Nigerian Senate President, Dr. Bukola Saraki, at the Code of Conduct Tribunal for false asset declaration has continued, with the Tribunal insisting that only the lead counsel could cross-examine the witness.
Before proceedings began on Tuesday, the Tribunal Chairman, Mr Danladi Umar, said that the records of the Tribunal showed that there were about 100 counsels for the defence.
According to him, there had been too many counsels cross-examining the witness, a situation he said could make the process untidy.
"To ensure orderliness all counsels cannot cross-examine the witness.
"All the other lawyers could assist Mr Kanu Agabi (Saraki's lead counsel) rather than every other person in the defence doing the job.
"This will make the process untidy. So, henceforth only the lead counsel, Mr Kanu Agabi, can do the cross-examination," Mr Danladi stressed.
Raising an issue that had earlier been brought before the Tribunal, Mr Agabi said that he feared prejudice.
"I want to assure you that there is nothing that we have done here to distort the records of the court.
"Are you surprised that those who come before you are afraid?
"People come here and they are ruled by fear of prejudice. Prejudice ought not to have a place at this court but we are afraid," he stressed.
Mr Agabi, however, pointed out that he had not accused the Tribunal of prejudice.
The Chairman of the Tribunal allaying the defence counsel's fears, further pledged to be fair in the hearing and to ensure justice.
"I swear by the Almighty Allah to do justice.
"On our part, the insinuations that we are being influenced to see the conviction of the accused is false.
"During Bola Tinubu's case we were under influence to convict him but we did the right thing," he told the Tribunal.
Responding to the Tribunal Chairman's statement, Mr Agabi said he agreed that all the persons in the case would account to God and stressed that "they should all be worried by that fact".
Another member of the Tribunal also stressed that the issue had been settled that an accused person is entitled to as many lawyers as he wanted, pointing out that the Chairman's remark was to ensure that there was order in court.
He added that a friend of his wife had, over a telephone conversation, told her that there was an article against her husband.
"The writer was shooting at the wrong person. There is a lot of misgivings as to the proceedings here.
"Those who know my background know am not somebody that keeps quite when things are going wrong.
"If you ask any staff here you will be told the same thing. The article was entirely about me," he stated.
Coming back to the proceedings, the Chairman pointed out that the concern of the Tribunal was national interest.
"This is about Nigeria," he stressed before proceedings started.