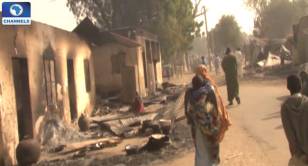 The Victims Support Fund (VSF) has commenced assessment of destruction caused to public buildings in the war ravaged northeast states of Adamawa, Borno and Yobe states by the dreaded Boko Haram militants.
While on an assessment visit to Yobe State, the Executive Director of the Trust Fund, Mr Sunday Ochoche, said that the aim of the assessment tour was to support the process of normalcy with a view to making the stay of the returnees a comfortable one.
While in the state, the Victim Support Fund visited Gujba and Gulani Local Government Areas. Both were badly hit by the Boko Haram insurgency in the state.
The team took stock of destruction done to hospitals, schools, local government secretariats among other structures and infrastructure.
Briefing the press shortly after the assessment visit, the Executive Director of the Trust Fund, Prof. Sunday Ochoche, said that upon return to Abuja, they would take appropriate measures that will enhance stabilisation for the people to return to their ancestral home.
Prof. Ochoche commended the security forces for the restoration of peace in the affected areas and called on the Internally Displaced Persons to start thinking of returning to their ancestral homes as the current administration is doing everything possible to make their return home a historic one.
On the extent of destruction caused to various buildings in the areas visited, the Executive Director expressed sadness about the huge destruction done in the two council areas.
He maintained that the Trust Fund would work quickly to reconstruct the destroyed buildings.