Niger Delta Avengers: Britain Cautions FG Over Military Option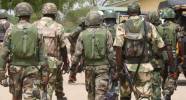 The British High Commissioner to Nigeria, Paul Arkwright, has cautioned the federal government over military option as a measure to tackle the resurgence of militancy and other criminality in the Niger Delta region.
The British High Commissioner was speaking in Abeokuta, the Ogun State capital, shortly after his courtesy visit to the Alake of Egbaland, Oba Adedotun Gbadebo.
He also advocated for dialogue as part of a comprehensive approach that should be adopted by Nigerian government to address the situation, adding that force alone may not bring about a lasting solution to the Niger Delta issue.
The Niger Delta Avengers (NDA), an armed militant group, and other violent youth organisations have been launching violent attacks on oil and gas facilities in the Niger Delta area.
Early on Friday, the Niger Delta Avengers militant group claimed three new attacks in the Niger Delta region.
The group said through its Twitter account that it had blown up a pipeline in Bayelsa State owned by Italy's ENI, hours after attacks on another ENI pipeline as well as one belonging to Shell Petroleum Development Company of Nigeria Ltd (SPDC).
This is sequel to several other attacks they have carried out in recent weeks resulting in international oil companies shutting down their facilities and consequently a drop in the country's revenue from oil.
The action has forced the federal government to respond by deploying troops to the area's creeks to stop the alleged destruction of national economic assets and spate of sabotage being perpetrated there by the region's restive youths.