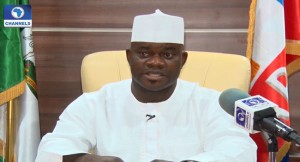 Governor Yahaya Bello has named the Kogi State University after Abubakar Audu, the late initial candidate of the All Progressives Congress in the State's governorship election of 2015.
Governor Bello renamed the university  "Prince Abubakar Audu University" in a broadcast on Friday to the people of the state at his office in Lokoja, the Kogi State's capital in northern Nigeria.
He said the announcement was made as a mark of honour to immortalise the name of late Audu who died in November 2015, a day after the election which was later declared inconclusive by the Independent National Electoral Commission.
Late Audu was leading in the election.
After his death, he was substituted with Mr Bello who later won the election.

No Victor, No Vanquish
Governor Bello's victory was contested by the running mate of late Audu, Mr James Faleke, who said he was the candidate in line to take over from late Audu.
But an election Tribunal dismissed his petition.
In his address on Friday, Governor Bello described the judgement of the Kogi State Election Petition Tribunal as 'no victor, no vanquish'.
He appealed to all the parties in the dispute to join hands with him and develop the state.
Bello's declaration is sequel to his final confirmation as the validly elected Governor of Kogi State by the Tribunal in Abuja on Friday.
The petition filed by the running mate of late Audu made it the fifth case he won.
He noted that the Tribunal had consistently dismissed all petitions from June 6 – 10 on lack of merit.
Governor Bello expressed regret on the petition filed by Mr Falake who is a co-party member of the All Progressive Congress (APC).
He said the petition indeed polarised the APC in Kogi State, especially when the party was meant to unite after the death of the leader, Prince Audu.
The Governor also called on the members of the State Assembly, who had withdrawn involvement in the activities of the legislative arm, to return in the interest of the state.