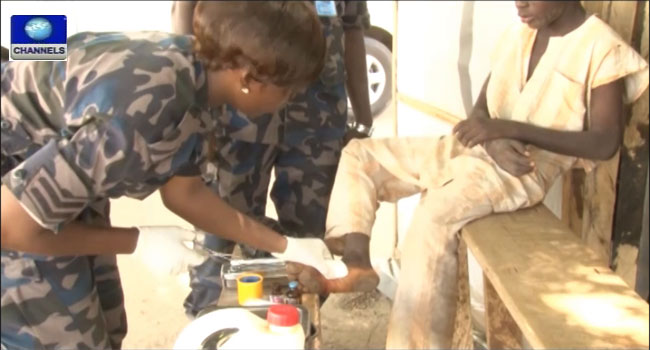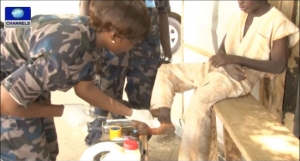 The United States Government is partnering with the Nigerian Air Force in its medical outreach efforts for Internally Displaced Persons (IDPs).
The support was announced by the Deputy Head of Mission of the U.S. Embassy in Nigeria, Mary Brewer, in Maiduguri after a tour of the Air Force Hospital in Dalori camp, home to over 20,000 Internally Displaced Persons.
Brewer's visit to Maiduguri is to obtain a firsthand assessment of facilities and usage of equipment to chart a course for new partnerships.
Addressing reporters on the support the U.S. will render, she said: "We are here on behalf of the U.S. government to witness the delivery of some medical equipment donated by some private U.S. citizens to the Nigerian Air Force and the Air Force has been using them to good effect to help the people of Dalori IDPs camp; a wonderful example of people to people diplomacy".
It was in recognition of the humanitarian based Air Force medical outreach which has continued to gain recognition from organisations within and outside Nigeria.
Services rendered under the programme include eye surgery, antenatal and prenatal care and other general health issues prevalent among the Dalori Internally Displaced Persons camp.
The services have now been extended to the Bakassi camp in Maiduguri as well as Malkohi in neighbouring Adamawa State, according to Air Force officials.
Giving a breakdown of the services rendered by the Air Force, the Director Medical Services, Sale Shinkafi, said: "Over time the hospital has developed and now we have full services in all departments general outstation, consultation, dental care maternity and delivery services. So this U.S. NGO saw what the Nigerian Air Force is doing and they donated a 40-feet container containing medical consumables and instruments".
One of the beneficiaries of the eye surgery picked out from the Bakassi IDP camp in Maiduguri was full of gratitude, as he spoke to reporters.
Last month, the Victims Support Fund made a cash donation of 20 million Naira to the Air Force Hospital.
The Nigerian Air Force, which took part in the widely adjudged successful operation "Crackdown" in the Sambisa forest, recently launched an air operation tagged "Operation Gama Aiki", a Hausa parlance for concluding the work.