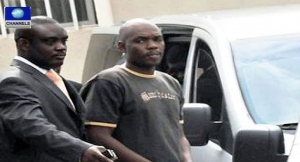 An official of the Nigerian Prisons Service on Saturday debunked reports that one of the prime inmates in Kuje Prison, Mr Charles Okah, has escape.
The spokesman for the prisons service, Enobore Francis, told Channels Television that Mr Okah was intact in his cell.
He, however, confirmed reports of Kuje Prison brake, saying that two inmates awaiting trial for culpable homicide were at large.
"Actually, yesterday, we had an incident where two inmates awaiting trial escaped from custody.
"Charles Okah is still in safe custody in Kuje Medium Security Prison.
"There is no truth about news making the rounds that Charles Okah escaped from lawful custody. It is not true.
"At least the Comptroller General himself came when the news was trending to assess the situation," he stressed.
Although reporters were not allowed into the prison with the Comptroller General of Prisons, who carried out an assessment, the prisons spokesperson said the two inmates escaped from their cells at about 7:30 p.m. local time on Friday, June 24.
He said that the Comptroller General had directed that a detailed account of what transpired should be transferred to his office.
"He has promised that any staff found wanting would be made to face the full wrath of the law," he added.