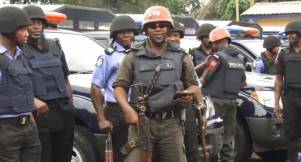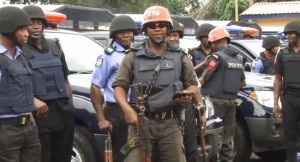 The Intelligence Response Team (IRT) of the Nigeria Police has smashed an 11-man kidnap gang that had for some time terrorized Kaduna State, the FCT and other North-Central States of Nigeria.
This dare devil criminal gang was responsible for the abduction of the Sierra-Leonean Deputy High Commissioner to Nigeria, Maj. Gen. Alfred Claude-Nelson on June 30, 2016, the Executive Director of Dangote Group and many other high profile kidnap for ransom in recent times.
The Force Public Relations Officer, DCP Don Awunah, revealed in a statement on Tuesday that the modus operandi of these criminal elements includes mounting road blocks on highways in Military uniforms, surprise attack on unsuspecting motorist and relocating from one point to other in the forest with their victims to avoid detection and arrest.
He stated further, "In order to halt the apparent trend in the increase of kidnap for ransom, armed robbery and other anti-social behaviours, the Inspector-General of Police, Ag.IGP Ibrahim Idris, NPM, mni has reorganized the tactical operations teams to tackle crime and criminality throughout the country.
"To this end, the Intelligence Response Team (IRT) of the IGP Monitoring Unit, the Nigeria Police on July 2, 2016 carried out tactical surveillance of the Abuja-Kaduna axis and all the adjoining States.
"This coordinated operation led to the arrest of eleven members of the notorious gang that has been terrorizing the North-Central States of the country with arms and ammunition recovered from them."
The suspected kidnappers in Police custody are:
Alhaji Rabiu Yusuf 'm' Aged 45yrs – Gang Leader
Garba Abubakar 'm' aka Habu Aged 27yrs – 2i/c Gang Leader
Yusuf Adamu 'm'Aged 20yrs
Hussaini Musa 'm' Aged 25yrs
Shuaibu Idris 'm' Aged 35yrs
Usman Bello 'm' Aged 20yrs
Musa Ali 'm' Aged 45yrs
Muhammadu Abubakar 'm' Aged 30yrs
Suleiman Abubakar 'm' Aged 25yrs
Gambo Ibrahim 'm' Aged 25yrs
Balarabe Mohammadu 'm' Aged 32yrs
The Intelligence Response Team Operatives also recovered three (3) AK 47 rifles, three (3) AK 47 rifle magazines loaded with 90 rounds of ammunition and two (2) sets of Military camouflage uniforms.
The Police say investigations are ongoing and the suspects will be charged to court as soon as it is concluded.
Similarly, the Ag. IGP Ibrahim K. Idris has ordered the same Intelligence based operations throughout the federation to flush out all criminal elements.
Also, the IGP has directed the State Commissioners of Police and Technical/Operation Commanders to improve the response rate on issues of crimes and criminality, assuring law abiding citizens of protection of their fundamental human rights.
Ag.IGP Idris has assured all members of the Diplomatic community of their safety and adequate security in Nigeria.
He also reiterated that crime prevention, management and control must be approached from the perspective of collective responsibility.