Akwa-Ibom Floods: Local Govt. To Build Emergency Camps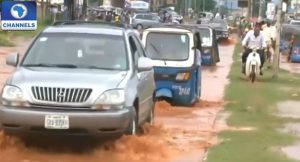 The Chairmen of 15 Local Government Areas in Akwa Ibom state have been directed by the state Government to build rescue and emergency camps in anticipation of flooding.
The directive followed an earlier warning by the Nigerian Meteorological Agency, on impending floods expected to occur in 11 states including Akwa Ibom.
The State Emergency Management Agency (SEMA), and Ministry of Environment, have suggested that building emergency camps would be necessary in order to accommodate victims, should a flood disaster occur.
In to a statement made by the Agency, the 15 Local councils which were prone to flooding include Oron, Udung-Uko, Mbo, Urue, Offong, Uruko, Ibeno, Eket, Esit, Ikot-Abasi, Mkpat, Enin, among others.
The flooding which has recently been a recurring incident in the 11 flood-prone states across Nigeria, has ravaged a lot of houses, led to some deaths and rendered many homeless in the last couple of months as the rainy season takes over.
The ministry has assured that the State Government is working towards providing relief materials in case of any flood disaster.