Nigeria, UK Sign Agreement On Stolen Assets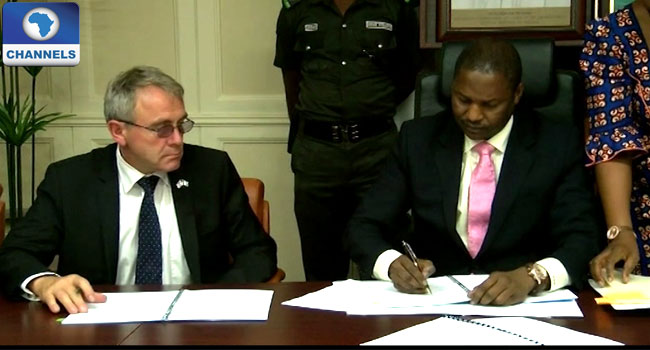 The government of the United Kingdom has reaffirmed its commitment to recovering and returning stolen assets to Nigeria.
It says returning the funds to Nigeria will send a clear message to all who may seek to harbour stolen assets overseas that there is 'no safe haven' in the United Kingdom.
The Minister of State for Immigration of the United Kingdom, Mr Robert Goodwill, briefed reporters in Abuja about the agreement shortly before signing a Memorandum of Understanding with the Federal Government of Nigeria.
Mr Goodwill announced that 40 jurisdictions, including British Overseas Territories, would share beneficial ownership information relating to companies, trusts and foundations in order to expose owners of stolen assets.
"Let me be clear that my government is fully committed to the return of all funds looted from the Nigerian state.  We will do this as soon as the necessary legal processes allow.
"As outlined in the summit, we will be taking steps to accelerate the procedures for identification and confiscation of illegally acquired assets.
"We are committed as is Nigeria to ensuring that beneficial ownership of assets is made available to relevant authorities so they know who the real owners are of assets held in the UK," he said.
The Attorney General of the Federation and Minister of Justice, Mr Abubakar Malami, who signed the agreement on behalf of the Federal Government of Nigeria assured Nigerians that returned assets would not be misappropriated again.

Efforts of the current administration of Muhammadu Buhari to recover Nigeria's assets stolen and taken to the UK were heightened at the anti-corruption summit held in London where the President made an emphatic call for the funds to be returned to the oil rich nation.
President Buhari told the summit that he was more interested in repatriating Nigeria's stolen assets than any apology from British Prime Minister, David Cameron, following sour remarks ahead of the Anti-Corruption Summit.