Edo Governorship Election: Polls Going On Smoothly – INEC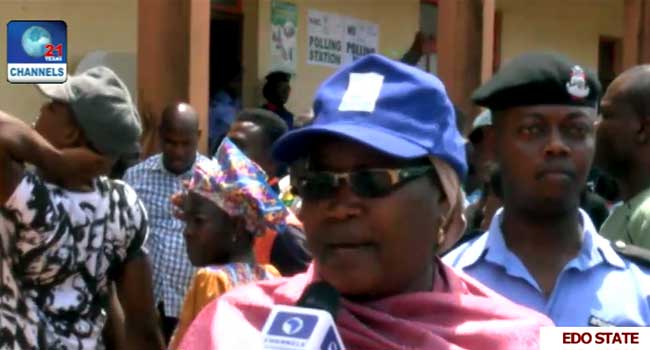 The Independent National Electoral Commission (INEC) says polls have been going on smoothly so far in the Edo State governorship election.
INEC National Commissioner, Mrs Amina Zakari, said the electoral process was going on as expected while the INEC officials and security agents were working professionally.
Mrs Zakari made the observation in an interview with Channels Television on Wednesday at one of the polling centres in Benin City, the state's capital in south-south Nigeria.
"It (the electoral process) has gone based on our expectation.
"The ad-hoc staff are working professionally (and) the security agents are doing their work (while) the people of Edo State are actually doing what we expect of them.
"They are behaving adequately, they are lined up neatly and everything is going smoothly," she said.
Card Readers Shorten Period Of Elections
The INEC official noted that the innovation where the electorates vote immediately after accreditation was yielding result compared to the old system.
She explained that as voting and accreditation take place simultaneously, more voters have been able to exercise their franchise, enabling the commission save time it spends to conduct elections.
"It allows more voters to come out (and) it reduces apathy because most elites did not like the old system but they can now come and vote peacefully and go back to their homes.
"It is something we should continue with the cooperation of all stakeholders, especially the voters and the card readers have actually shortened the period of elections," she said.
Mrs Zakari further expressed pleasure with the usage of the card readers, saying it has also contributed greatly to the progress of the elections.
Although there were hitches with card readers at some polling points, she was happy that the technical support team deployed by INEC were able to manage the situation.
"Yes they (the card readers) are working, but you must expect some hitches here and there. We have deployed about 200 technical support.
"We have one technical support for each registration area (that is 192) and we have 36 senior technical support (two per local government).
"We've had hitches here and there and they are being replaced or repaired and we have continued voting", she added.