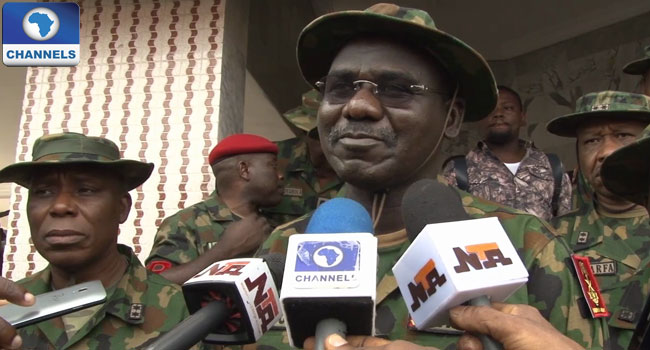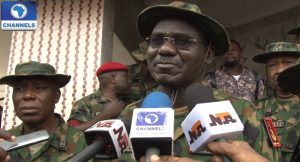 The Nigerian Army has commissioned a new operational base in Buratai village in Borno State to provide support and sustain military operations against insurgents in the volatile northeast.
At the commissioning of the operational base located along Damaturu-Biu Road, the Chief of Army Staff, Lieutenant General Tukur Buratai, said that the base would also ensure safety at the eastern part of Gombe and north western part of Adamawa State.
Forward Operation Base
The commissioning ceremony of the base named; 'Forward Operation Base' had in attendance the Deputy Governors of Yobe and Borno States as well as dignitaries from the two states.
"More Forward Operation Base across the country will be established to support military operations in other parts of the country," the Army Chief said, pointing out that provision for such were reflected in the 2017 budget.
The Chief of Army Staff was accompanied by some highest military personalities were first received at the cutter guard of the base that will cover southern part of Yobe State as well as the western part of Borno state.
It has provision for accommodation and other facilities.
According to the Chief of Army Staff, the operational base would support military operations in the fight against Boko Haram terrorists group, as Buratai village links Borno, Yobe, Adamawa and Gombe states.
He says the army will work assiduously towards strengthening the synergy between the military and host communities and solicited for more cooperation in the fight against the insurgency.
The Commander of Operation Zaman Lafiya Dole, Major General Lucky Irabor, on his part said the aim of siting the operational base in Buratai village was to check the movement of terrorists and transportation of food, and weapons to the insurgents.
The Deputy Governors of Yobe State, Abubakar Aliyu, and his Borno State counterpart praised the military for the foresight, saying it will check the activities of the insurgents along the route.
Apart from checking the movement of arms and foodstuffs to the insurgents along the route, the operational base will also provide security for communities living along the road as well as provide military surveillance to the people navigating along the Damaturu-Biu road.