Gunmen Kill 31 Persons in Kaduna Village Attack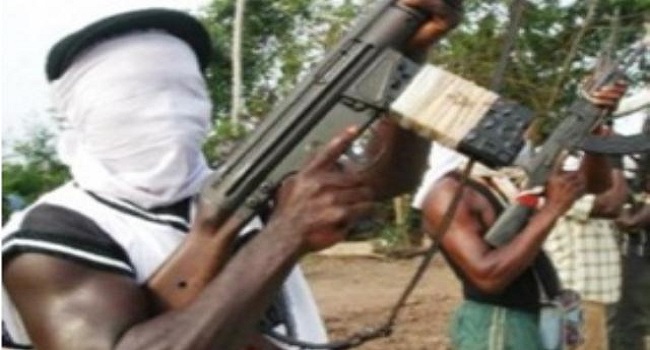 About 31 people have been killed and several others injured, as gunmen attacked four communities in Kauru Local Government Area of Kaduna state.
The fresh attacks came just a day after the launching of public apology billboard by the state governor, Nasir El-Rufai signaling the return of peace and an end to the frequent conflicts between Fulani Herdsmen and natives of Southern part of the state.
Eyewitness account reports that the gunmen invaded the four communities, Ungwan Rimi, Kitakum, Ungwan Magaji and Kigam all in Kauru LGA, on Sunday night, shooting people and burning down houses And farmlands. An indigene of the area told our correspondent on telephone that the entire communities have been deserted as people flee from their homes for fear of being caught up in the attack.
Meanwhile, the Kaduna State Government has confirmed the incident, describing it as barbaric and unfortunate.
A statement issued by spokesman for the state governor, Nasir El-Rufai, Mr Samuel Aruwan maintains that the attacks in the four communities will not derail or disrupt the ongoing peace-building effort of the state government in the area.
The statement while condemning the latest attacks that have claimed lives of innocent citizens, also condoles with the families of those that have been affected, assuring them that government will not give up in its effort to secure lives and property of the citizens.
The state government described the killings as barbaric conduct by people who are opposed to peaceful and harmonious living by communities.
According to the statement, "These sad events and the terrible toll in lives taken only reinforces the urgent need for peace-building and enhancing security in the area".
The government assures that as it continues to work on security enhancements, it will also keep pursuing peace-building, resolving conflicts through dialogue between communities as a panacea for sustainable peace and development in the affected areas.
Mr Aruwan assures that emergency relief for survivors has been ordered along with enhanced security.
"The government sympathizes with families that lost their loved ones and properties. The Governor prays for the repose of their souls and wishes those that sustained injuries speedy recovery.
"The Kaduna State Security Council has received preliminary reports of the attacks and ordered full scale investigation in to the matter. It has taken further measures to curtail threats to peace in the area.
"However, the government has directed the State Emergency Management Agency (SEMA) to provide with immediate effect relief materials to the displaced persons in the communities.''