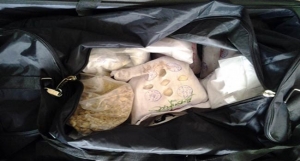 The National Drug Law Enforcement Agency (NDLEA) in Kano has arrested three people with 56.6kg of methamphetamine drugs for export to Malaysia via Mallam Aminu Kano International Airport.
Addressing a press conference, the NDLEA Kano State Coordinator, Adamu Hamza, said the drug was associated with serious health conditions, including memory loss, aggression, psychotic behaviour and potential heart and brain damage.
Channels Television's correspondent in Kano, Idris Jibrin, reports that it is the first time the NDLEA is recovering drug more dangerous than cocaine and heroine in the state.
According to the Kano State Coordinator of the agency, methamphetamine drug, popularly known on the streets as meth or crank, is not known in Nigeria until recently when the NDLEA uncovered seven clandestine laboratories in Lagos and some few states in eastern part of the country.
It is mostly used as club drug with ability to destroy the body and can only be relieved by taking more of the drug.
"This is a very dangerous drug, even more dangerous than any other drug you may think of. It is, however, important to note that where this substance cannot leave this country, it would be consumed here. Therefore, we thank God they were apprehended and currently under investigations including their sources," he said.
Joseph Obiajulu is the leader of the three-man group tasked with the responsibility of delivering the product to Malaysia.
He told reporters that he would get over $20,000 after successful delivery that was suddenly interrupted by the NDLEA.
"I'm from Imo State and this is the first time I joined this business. I could not wait to take a flight to Malaysia from Lagos that was why I came to Kano, unknown to me that the NDLEA officials were tracking me," he told reporters.
Meanwhile, the command also disclosed that it had so far seized a total of 37, 851.056kg of different kinds of drugs between January 2016 and now while about 761 suspects were arrested out of which 299 of them have been convicted.
"Substances recovered within the last eleven months include 2,822.913kg of cannabis sativa, 118.1 grams of cocaine, seven grams of heroin and 24.8kg of ephedrine, as we also counselled 542 users," he said, giving further breakdown.
For sometimes now, NDLEA has been hopeful of giving adequate attention to the situation when construction of a new drug rehabilitation centre was started by the state government, but after two years, they are still waiting for it to be completed.
While they wait, Kano State has continue to remain the largest drug consuming State in Nigeria.