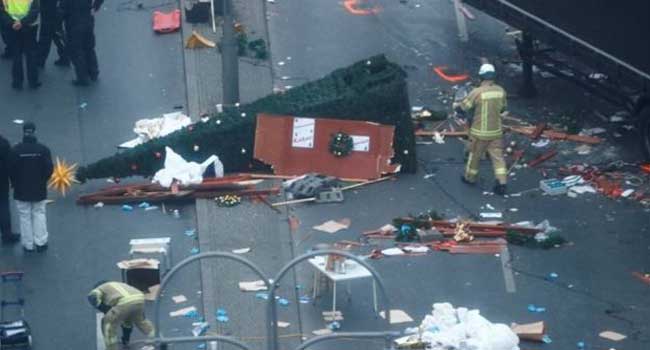 The German police have begun investigations into the cause of what they believe to be a terrorist attack, after a man ploughed a lorry into a Berlin market, killing 12 people and injuring 48.
They have detained the driver, who security sources say is an Afghan or Pakistani asylum seeker who arrived in Germany in February.
Report says the man was known to the police for minor crimes, but not terror links.
"Our investigators are working on the assumption that the truck was deliberately steered into the crowd at the Christmas market…," police said on Twitter.
"All police measures related to the suspected terrorist attack at Breitscheidplatz are progressing at full steam and with the necessary diligence."
German politicians had avoided branding the bloodshed a terror attack in the hours immediately following, but Interior Minister Thomas De Maiziere told ARD Television: "There are many things pointing to one".
The truck crashed into people gathered on Monday evening around wooden huts serving mulled wine and sausages at the foot of the Kaiser Wilhelm memorial church – left as a ruin after World War Two – in the heart of former West Berlin.
On Tuesday morning the black truck was still visible at the site of the incident and a few candles and roses had been laid by the entrance to a nearby station.
Flowers were being laid in the center of the nearby Kurfuerstendamm, a prestigious shopping street.
Reuters report a woman was crying as she stopped by the flowers.