Farming Becoming Money Earner For Bakassi IDPs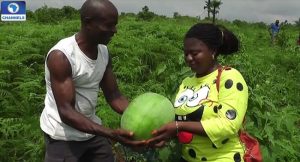 The Internally Displaced Persons (IDPs) in Bakassi, who had lived their lives as fishermen, are embracing farming, as a new occupation.
They say it is helping them pick up the pieces of their lives after they were displaced from their ancestral home to Cameroon.
Channels Television's correspondent, Imani Odey, visited a farm at Akwa Ikot Eyo Edem, in Akpabuyo Local Government Area of Cross River State and reports that, the IDPs are fully into farming of Watermelon, Garden Egg, Vegetables, Pineapple, Plantain as well as Piggery.
Their major challenge, however, is how they will control weed and pests affecting the production rate of the produce and they are calling for assistance from governments at all levels.
A 30-hectare land donated freely by their host community is presently used for farming. The community has asked them to develop the land and turn it to a new home for them.
The history of the displaced Bakassi People can be likened to one referred to as, refugees in their own father's land.
As a people abandoned and neglected by circumstances beyond their control, they have lived in inhumane conditions at Saint Mark's Nursery and Primary School Akwa Ikot Eyo Edem, Akpabuyo Local Government Area of Cross River State since 2013 and are awaiting the full implementation of the Green Tree Agreement which is yet to be fulfilled.
A leader of one of the camps where the IDPs see as their homes took Channels Television around their farms.
First of the farms visited was a land acquired beside the camp where the elderly ones in their midst farm.
Then the journey of over one hour on bike begins to the 30 hectares volunteered by their host community to them free of charge for developing and then settlement.
"We donated 30 hectares of land to the IDPs in our land because of what happened to them. It is for free. They are not to pay. This land remains for the IDPs to build houses, hospitals and whatsoever they want and the governor says he will do it for them.
"The community doesn't want anything in return because we gave them for free and all the community joined hands to give them," a leader of the community said.
Garden of Eden
The road network to the farm from the camp, however, is a challenge facing them which they want the government to help them address even though the community have tried to open a temporary bush track.
While they await government's input, each IDPs household made monetary contribution and hired a tractor to clear portions of the area which will form part of the farmland pending when the State government sets in to develop the land for them, as promised by Governor Ben Ayade during one of his trips to the camp to have a feel of what they have been passing through.
Few kilometers from the farmland was another farmland for the Bakassi IDPs where pineapple, Watermelon, Garden Eggs and other crops are planted.
One of the farmers said: "We call this, the Garden of Eden. So, now the particular area is Garden of Eden where it is the beginning of Bakassi farming. Formally, we enjoy our seafood – fish, periwinkle, crayfish, but one reason or the other made us to change our occupation. It is a painful situation when we recall our ancestral home because we are blessed with mineral resources, crude oil, fish and all".
The farming business, the camp leader added, was at the moment not profitable, as buyers come directly to the farm to purchase the crops at a giveaway rate of 200 Naira for one watermelon following the bad nature of the road.
"The challenge that we are facing here is that we don't know how to weed and remove these grasses because when the UN taught us how to farm, they used sprayer to show us how to kill some grasses but we don't have money even to eat. It is difficult for us to eat and to get chemicals and control weed in the ground that is why you're seeing that (weed).
"Our garden eggs and watermelon are suppose to be doing very well, but we don't know how to control weed. It is a first experience in our lives, since we discover all these minor challenges," he said.
Another Bakassi Returnee, Essien Okon, however pointed out that as much as he liked farming, fishing was something he loved to do.
"Since we don't have boats and other things that we can use for fishing, we prefer farming because now in Nigeria we don't have food so we have to go into farming so that, we can have something to eat," he told Imani.
Following this venture by the people of the Displaced Bakassi Peninsular, it behooves on the government to encourage these ones with the necessary farming tools in-order to serve as an encouragement to them.
They are however thankful to the UNHCR for their assistance so far.