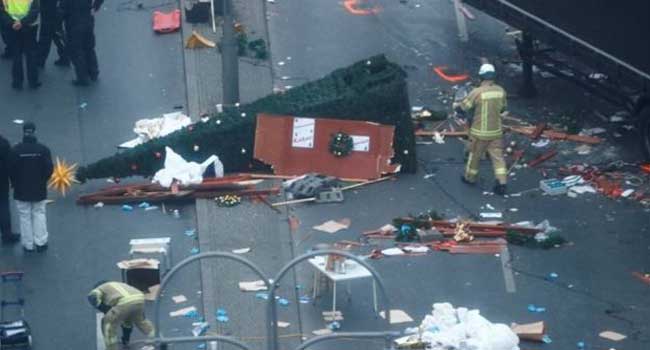 Italian officials say the Berlin market attack suspect Anis Amri, has been shot dead by police in Milan. 
The man was approached by police during a routine patrol in Milan on Friday morning.
Reports say the man opened fire on police who asked him for ID during a routine patrol in the Sesto San Giovanni area in the early hours of Friday.
German authorities say fingerprints they provided have confirmed the dead man is Amri. They are trying to find out if he had accomplices.
The BBC reports that Monday's attack on a Berlin Christmas market left 12 dead and 49 injured.
Meanwhile, the Islamic State (IS) group has released a video purporting to show Amri pledging allegiance to its leader, Abu-Bakr al-Baghdadi.
He does not make any reference to the Berlin attack, which IS claimed soon afterwards. It is not clear when or where the video was filmed.
Shortly before releasing the video, IS acknowledged Amri's death in Milan.
When Italian police stopped the suspect, who was on foot, at 03:00 a.m. local time, he "immediately drew out a gun" and shot at the two policemen, Italian Interior Minister, Marco Minniti, said.
One of the officer, Cristian Movio, was injured in the shoulder but his injuries are not life-threatening.
His junior colleague, Luca Scata, who had been in the police for just nine months, was the one who fired the shot which killed Amri.
Germany has been on high alert after the attack which also left 49 people injured.
They had detained the driver, who security sources said is an Afghan or Pakistani asylum seeker who arrived in Germany in February.
Reports however said the man was known to the police for minor crimes, but not terror links.
"Our investigators are working on the assumption that the truck was deliberately steered into the crowd at the Christmas market…," police had said on Twitter.
Separately, police arrested two people in the German city of Oberhausen on suspicion of planning an attack.