Unions Condemn Alleged Misconduct By Bayelsa Radio Boss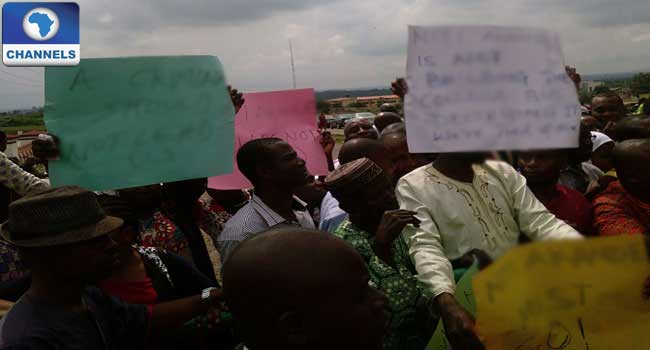 Fresh crisis has unfolded at the Bayelsa State-owned radio station, GloryLand FM, following protest by staff against the alleged misconduct of the General Manager, Dr. John Idunmage.
Dr. Idunmage, who was recently appointed following the sack of Mr. Heyford Lawson, was accused of high handedness, unlawful arrest of staff and insulting leadership of the staff union under the aegis of the Nigerian Union of Journalists (NUJ) and the Radio Television Theatre and Art Workers Union of Nigeria (RATTAWU).
The leadership of the affected unions led by Tonye Yemoleigha (Radio Bayelsa Chapel Chairman), Pius Otiti (Chairman, RATTAWU), Amiditor Ikpo (Secretary NUJ) and Preye Yabrifa (Secretary RATTAWU), decried the conduct of the general manager which they said was threatening the smooth working condition in the station.
A statement issued by the leadership of the unions read in parts: "Due to the recent developments in Bayelsa State Broadcasting Corporation (BSBC), the two sister-unions of NUJ and RATTAWU met and resolved as follows:
"That the unions are deeply unhappy with the arrest of three of their members: Emmanuel Torubeli, the Director of Engineering, Sydney Otufu, the Head of Transport Unit and Felix Amalah, the Head of Plant, by the Police on the insistence of the new BSBC General Manager, for alleged misconduct.
"While sister-unions are not and will not stand against any effort to instill discipline and unravel any act inimical to the corporation, it is however important that internal mechanisms are implored, as provided for in the Public Service Rules, to address such issues.
"Such arrest is capable of diminishing the morale and passion of committed staff to duty, therefore, it is the unions' position that the matter be withdrawn from the Police and be internally addressed.
"Also that the placement of staff of lower grade level/rank above their seniors is unacceptable to the unions and the recent 'acting appointments' of junior officers above and over their superiors should be reversed without delay.
"We are mindful that where a case of incompetence and misconduct or otherwise is established against an officer, disciplinary action should be taken in line with provisions of the Public Service Rules. Nonetheless, the next most senior officer must be given the responsibilities of discharging the functions of that office.
"As unions, we frown at the use of social media by the new General Manager of BSBC, John Idumange, to communicate the problems or challenges of the corporation to the global community rather than taking steps to call on staff or relevant government authority to address such problems and using internal communication channels.
"Finally, that the general manager tender an apology for insulting the unions as it is alleged that while departing the Ekeki Police Station, he was overheard to have said 'RATTAWU my yansh, NUJ my foot'.
"The unions' leaderships, while appreciating management for recent efforts to improve the corporation, called on staff to be more committed to duty and contribute meaningfully to the growth of the corporation."