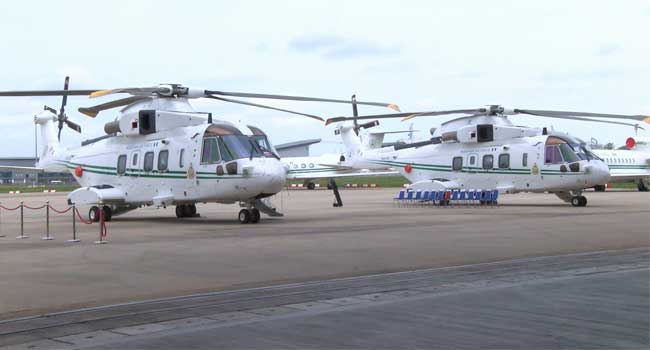 Chief of the Air Staff, Air Marshal Sadiq Abubakar, says the Nigerian Air Force has acquired two more Mi-35M combat helicopters from Russia Federation to enhance its capability in ongoing internal security efforts.
He has also given the assurance that the Nigerian Air Force remains committed to ensuring that the current gains in the war against Boko Haram terrorists in North East Nigeria is sustained.
Air Marshal Sadiq Abubakar, who was speaking at a media briefing in Maiduguri to acquaint the press with the activities of the Air Force in 2016, said air patrol and intelligence gathering was still in progress.
"The aircrafts have been delivered awaiting official induction after which they will be launched for operations.
"We have also installed camera on two of our Beechcrafts NAF 202 and NAF 204 and upgraded the camera on another Beechcraft NAF 201 all in 2016,"  the Air Chief stated.
The air bombardment of the camp zero and general area of the Sambisa forest by the air component of the Operation Lafia Dole paved way for the ground forces to advance and succeed in the operation.
The Air Chief said that the Air Force would not relent in its air campaign efforts to ensure that dislodged terrorists do not regroup or attack communities or the ground forces carrying out mop up operations.
According the Air Marshall, three EC-135 helicopters ceded by the  Nigerian National Petroleum Corporation to the NAF in March 2016 are undergoing reactivation processes to boost the number of serviceable platforms.