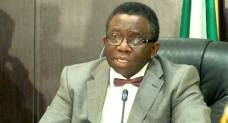 The Federal Government has signed a Memorandum of Understanding with the European Union (EU) on 70 million Euro support to Revamp Nigeria's health sector.
According to the Minister of Health, Professor Isaac Adewole, the fund will be used to strengthen the nation's already weak health system and eradicate polio.
The Head of the European Union Delegation to Nigeria, Michel Arrion emphasised the need to concentrate on reducing the nation's burden of maternal child mortality.
Nigeria's health sector has been grappled with inadequate financing as the National budgetary allocation fluctuates between 4.6 and 5.4 percent since 2011.
However, the Bauchi State governor, Mohammed Abubakar spoke on behalf of benefiting states, advocating for the building of internal capacity in the states rather than waste the money on consultants.
Besides strengthening the already weak health care system in the country, 2.7 million children under five years of age and 850 pregnant women are expected to benefit from this funding in Adamawa, Bauchi, and Kebbi states.