Songhai Farms To Be Replicated In Oyo – Ajimobi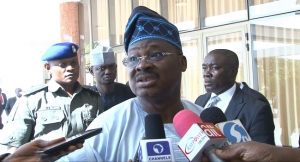 The Oyo State Governor, Abiola Ajimobi, has reiterated the commitment of his administration to replicate Songhai farms model in the state within nine months, in his quest to maximise opportunities of areas of comparative advantages, especially in agriculture.
He made the disclosure in Ibadan while receiving a delegation from Songhai farms led by its Chief Executive Officer, Prof. Godfrey Nzamujo in his office.
The visit was a follow up to the Governor's earlier visit to Songhai farms, Port Norvo in Benin Republic to understudy the farms with the aim of establishing a partnership, likewise replicating such in the state.
The Governor said the agricultural sector of Oyo state would experience a total turn around sequel to a new partnership with Songhai farms.
Also, implementations have been made on one of the state farmlands with a further spread across different farm settlements within the state.
Governor Ajimobi said that they have been very much keen to take advantage of all areas where the state has comparative advantage, such as agriculture.
"Our state is well positioned as the food basket of Nigeria. The state is the largest in the south and with good climate.
"If you are talking about an integrated, well managed farm model, it is Songhai farms.
"I am confident that any state that replicates the model will be among the topmost in the comity of nations. Songhai has multiplier effects," he said.
Governor Ajimobi added that the fastest way to development was through templating, adding that it was the reason for their visit to Songhai to understudy the template.
"I have no doubt in my mind that our efforts in replicating Songhai farms model in the state is a long lasting legacy which would begin to yield results in nine months," he said.
Earlier, the founder and director of Songhai farm, Nzamujo Godfrey, hinged his visit to the state on the vision and inspiration exhibited by the Governor during his visit to the farms in Port Novo.
"Your excellency, we are here because you inspired us when you came to Port Novo. We are really impressed about your vision and determination to leave a lasting legacy in Oyo state.
"It is that inspiration that brought us down to the state and I am here with two of my leading assistants to help with the vision of replicating the farms here.
"I am sure that your vision will be carried out because we will give it all the necessary pushes," he said.
He added that the replication of Songhai farms in the state would begin to yield results in nine months.