INEC Issues Certificates To New Political Parties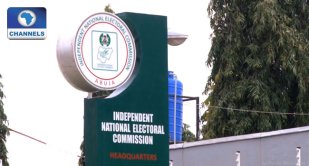 The Independent National Electoral Commission has issued certificates to the five new political it registered last week.
INEC Chairman, Professor Mahmud Yakubu, speaking in Abuja, urged the parties to operate according to the electoral laws and guidelines or risk being de-registered.
He also urged the parties to ensure they run an all-inclusive system of administration that caters for all categories of persons in the country.
The commission had announced the registration of the parties on Wednesday last week, bringing the number of registered parties in the country to 45.
The parties are Young Progressive Party (YPP); Advanced Peoples Democratic Alliance (APDA); New Generation Party of Nigeria (NGP); All Democratic Peoples Movement (ADPM) and Action Democratic Party (ADP).
The commission said 95 associations had applied for registration as political parties, but it approved five applications which met the constitutional requirements for registration.
Two out of the associations that applied for registration had voluntarily withdrawn their request and the remaining 88 are still undergoing processing and verification, according to the commission.