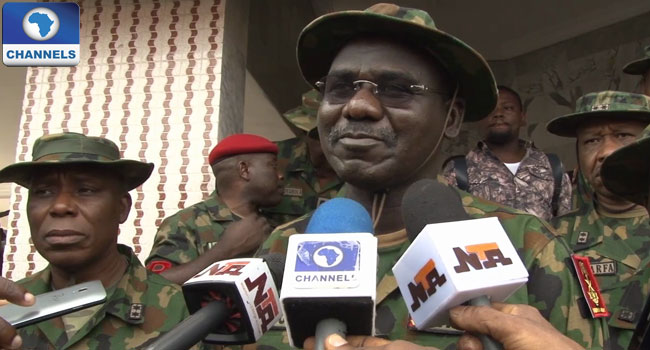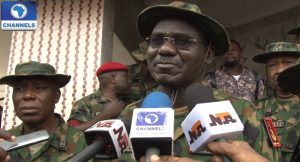 The Chief of Army Staff, Nigerian Army, Lieutenant General Tukur Yusufu Buratai, has directed the Theatre Commander, Operation Lafiya Dole, Major General Ibrahim Attahiru, to capture Abubakar Shekau, the self-acclaimed leader of the Boko Haram terrorist group, dead or alive.
The Theatre Commander has been directed to do so within 40 days.
This was made known in a statement by the Brigadier General Sani Kukasheka Usman, Director Army Public Relations.
The statement further urged the public to assist in providing information that would lead to the accomplishment of the task.
Read Also: Nigerian Army Insist Shekau Is Dead
Severally, the military had claimed that the Boko Haran leader had been killed, after which a man claiming to be him would reappear in a video in which he dismisses claims that himself as well as his members were killed.
In 2014, the military claimed that one Mohammed Bashir, who had been acting or posing in videos as the deceased Abubakar Shekau, was killed in a counter-terrorism operation in the north-east.
Read Also: Boko Haram Leader, Shekau Reappears In Video
On March 17, Shekau reportedly reappeared in a new video in which he dismissed claims of his death.
In a 27-minute video in which he spoke in Hausa and Kanuri, he described the claim as a lie, insisting that his so-called caliphate was 'running smoothly'.
He also criticised countries in the Lake Chad area fighting the group under the Multinational Joint Task Force.
Specifically, he singled out Cameroon which reportedly announced that its soldiers killed about 60 Boko Haram fighters and arrested scores of others while freeing about 5000 hostages.
Shekau described the news as all false and claimed responsibility for the suicide bombings recorded in Northeast Nigeria at the time.
Read Also: Federal Government Admits Shekau Is Alive
Eventually, on March 28, the Federal Government admitted that the leader of the Boko Haram sect, was not dead but alive and hiding somewhere in the Sambisa forest.
The Minister Of Defence, Mr Mansur Dan-Ali, addressing journalists explained that it had been difficult to arrest the sect leader because the insurgents normally wear masks to conceal their identities and divert attention.
Mr Dan-Ali, however, said the military had then taken over the Sambisa forest and would soon capture the leader of the sect.