Aisha Alhassan Has Never Believed In The Buhari Ideology – El-Rufai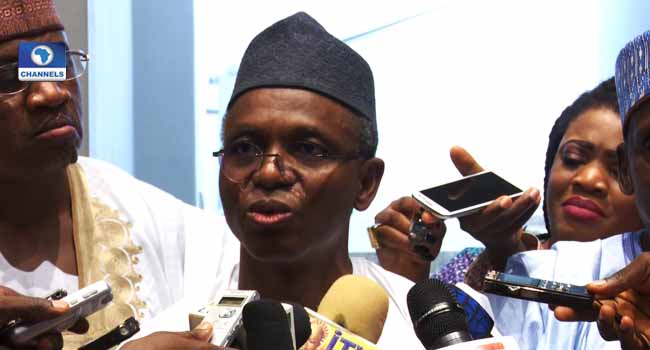 Governor Nasir El-Rufai of Kaduna State is not surprised by the news that the Minister of Women Affairs, Aisha Jummai Alhassan, has endorsed former Vice President Atiku Abubakar for the 2019 Presidential election.
The governor told journalists after visiting President Muhammadu Buhari in the nation's capital Abuja on Friday that the minister has never shared the President's ideology.
The Women Affairs Minister found herself in the eye of a storm this week after a video of a visit she paid to Mr Abubakar went viral online.
She later told BBC Hausa that even if President Muhammadu Buhari decides to seek reelection in 2019, she would still support Atiku, according to Premium Times, a move which fueled the controversy surrounding her views.
"Her comments are not surprising. She has never been a supporter, she has never believed in the Buhari ideology. So, I am not surprised. As a Nigerian, as an individual, she has every right to express her views and support whoever she wants. But what I am saying is that Nigerians should not be surprised or shocked," Governor El-Rufai said.
"This has always been her position because, from time, she has never supported Buharism or what Buhari stands for."
The governor does not, however, expect only those who believe in the Buhari ideology or what he calls Buharism to be ministers.
He said, "Being part of the Buhari government is a different thing because the government sets the policies and if you are a minister you execute the policies. You can execute those policies while pursuing a different brand of politics. It is okay, there is no problem with that."
There have been calls for the minister to be fired, while some have said she ought to have resigned based on her views.
El-Rufai expects a decision about that to be taken by the President.
"If Jumai Alhassan is performing as the Minister of Women Affairs and adding value to the government and people of Nigeria, it's the President's prerogative to retain her in spite of her political views. But if she is not adding values in spite of her political views, she can be dispensed with. That is the President's decision," he said.