Forfeiture Of Funds: Court Fixes Date To Hear Patience Jonathan's Appeal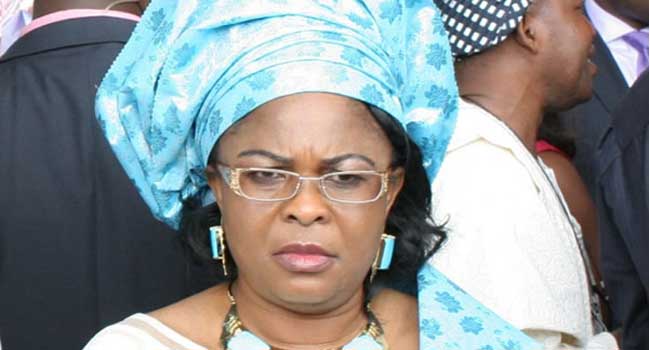 The Court of Appeal in Lagos has fixed November 3 to hear the appeal filed by Mrs Patience Jonathan, seeking to stop the permanent forfeiture of $5.7 million to the Federal Government.
The appeal arose from an order obtained by the Economic and Financial Crimes Commission (EFCC) on April 26, from a Federal High Court in Lagos, temporarily forfeiting the funds to the government.
The EFCC had told Justice Mojisola Olatoregun, who gave the order, that the funds were suspected to be proceeds of unlawful activities.
READ MORE: Judge Withdraws From Patience Jonathan's $5.9m Suit
The judge had also ordered the temporary forfeiture of the sum of N2,421,953,522.78 found in an Ecobank Nigeria Ltd account numbered 2022000760 in the name of "La Wari Furniture and Baths Limited", which the EFCC said was linked to the former first lady.
Dissatisfied with the ruling, Mrs Jonathan filed an appeal against the ruling, asking that the order be vacated.
On July 12, proceedings, however, were stalled as one of the judges of a three-man panel of the Appellate Court said he was recusing himself from hearing the appeal for what he said were personal reasons.
Justice John Ikyeh, who presided over the appeal alongside Justices Abimbola Obaseki-Adejumo and Abrahim Georgewill, had noted that three judges were required to form a quorum but did not say which of the justices was withdrawing.
Counsel to the EFCC, Rotimi Oyedepo, then urged the court to consider hearing the appeal as early as possible, preferably during the annual court vacation.
At the resumed hearing of the matter today (Monday), the Appellate Court granted a prayer by Mrs Jonathan, seeking to amend her notice of appeal and file additional grounds of appeal.
The court also directed lawyer representing La Wari Furniture and Baths Limited, Mr Mike Ozekhome, to file a separate notice of appeal for his client within 48 hours.
The order was sequel to the striking out of the name of La Wari Furniture and Baths Limited from the main appeal filed by Mrs Jonathan.
The court had earlier granted leave to the company to appeal against the decision of the lower court.