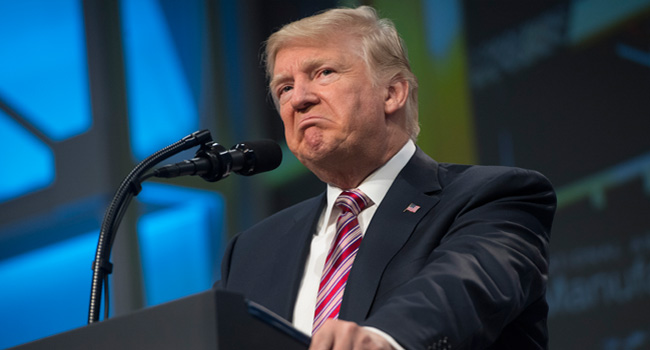 US President Donald Trump will ask Congress for a bumper $29 billion package of emergency relief for Puerto Rico in the wake of Hurricane Maria, officials told AFP Wednesday.
Trump will request a package that includes $12.77 in disaster relief and a $16 billion bailout to keep a critical flood insurance program running.
There was no immediate indication when the request would come, but top Republicans have suggested a package will be approved by the middle of this month.
The news comes after Trump visited the US island on Tuesday.
He shook hands with storm survivors, lobbed rolls of paper towels into a crowd and tried to slap down critics who judged his administration's response to the disaster too slow.
But he also raised eyebrows by suggesting residents should be "proud" that Maria did not kill as many people as "a real catastrophe like Katrina" — which ravaged New Orleans in 2005.
Trump also sent financial markets fluttering when he suggested Puerto Rico's $70 billion-plus debt would have to be wiped out.
Markets reacted poorly to the comments — which were quickly walked back by White House officials.
Investors holding Puerto Rico's debt have been in a long tussle to minimize their losses.
After Trump's remarks, bonds due to mature in 2035 traded at 32.25 cents on the dollar, down from 44 cents on Tuesday.
Even before the monster storm, which made landfall in Puerto Rico on September 20, the territory had declared a form of bankruptcy and said its economy was in a "death spiral."
After falling into recession a decade ago, Puerto Rico debt-financed its budget. US lawmakers last year put the island's finances under federal administration, suspending lawsuits from creditors, but legal battles have continued.
The package is significantly larger than the $15 billion hurricane relief package for Texas after Hurricane Harvey, but is likely to be only a fraction of what the island needs.
The debt relief portion is expected to come with no conditions attached, but may include recommendations to reform a flood insurance program that was due to run out of cash by the end of the month.
The disaster relief portion of the funding is expected to keep Puerto Rico going until the end of the year.
Nearly two weeks after Maria thrashed through the US territory, seven percent of the island has electricity, more than 9,000 people are living in shelters, and just 40 percent of telecommunications are back up.
AFP