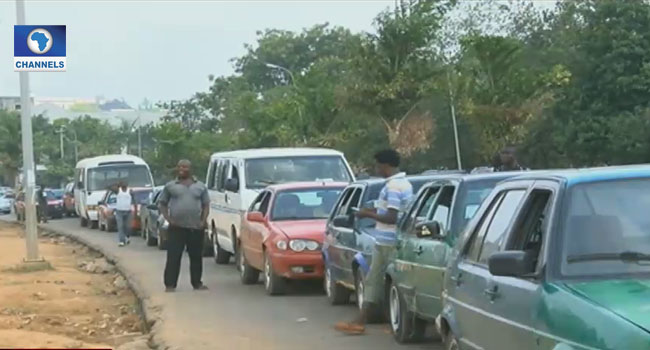 Most petrol stations nationwide are currently besieged with queues, some are either shut down while those opened are flooded with inevitable queues.
The Independent Petroleum Marketers Association of Nigeria (IPMAN) has attributed the scarcity to undersupplying of petrol by the Nigerian National Petroleum Corporation (NNPC) from Lagos.
An Independent Marketer, Benjamin Omale, told Channels Television, on Tuesday that they were not getting enough products from the PPMC and Private tank farms in Lagos, coupled with the fact the Kaduna refinery where they normally load their products from have been shut down for quite some time.
READ ALSO: NNPC Boss Cuts Short Foreign Trip To Address Fuel Scarcity
"Right now, we are having a total shortage of products because we are not getting supply from our depots. And as we all know, the refinery, we have not been getting supply from the refinery. We are hoping and believing that when they resume production, we will be able to get products from their and distribute to all our outlets,'' he said.
He appealed to the PPMC to ensure that marketers get enough petrol that will serve them throughout the Yuletide, expressing fear that the scarcity could extend to next year if nothing is done urgently to address the situation.
The GMD of Nigerian National Petroleum Corporation (NNPC), Maikantu Baru had earlier given the assurance on November 30, 2017, in a statement saying there were enough products for the Christmas season and beyond, and no plan to increase fuel price at the depot and at filling stations.
"We are prepared and we have sufficient products that will last us to the end of the year and into next year. We have an average consumption of about 35million litres per day and at the moment, we have well over 1 billion litres of petroleum products," he said.
In Kaduna, long queues have resurfaced at many filling stations in the state capital and other parts of the state, as most of the stations across the metropolis were shut down on Tuesday morning due to non-availability of petrol.
This is coming more than a year after the country experienced petrol scarcity, especially during festive periods.
Only a few stations were observed to have petrol and are selling to motorists, thereby leading to long queues.
Some motorists in the long queues, who expressed concerns over the development appealed to the Federal Government and relevant regulatory agencies to step up action in curtailing the crisis.
In Abeokuta, the Ogun State capital fuel stations as monitored in the state capital  were dispensing with free movement of vehicles in and out of fuel stations just as the department of petroleum resources monitored compliance by fuel station across the state
Leading the monitoring team in the state capital, the operation controller of the DPR in charge of Ogun State, Mrs Muinat Bello-Zagi said that the monitoring exercise became imperative in order to ensure that consumers are not under dispensed and have value for money.