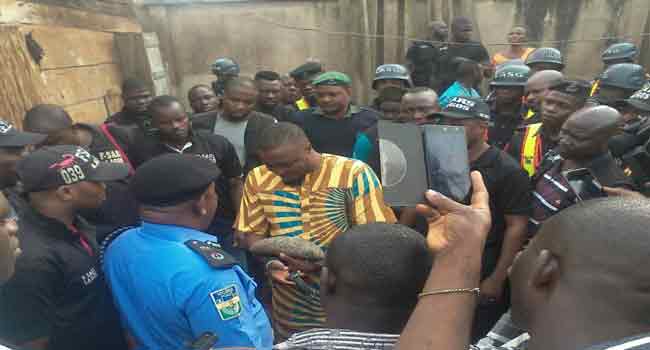 The Lagos State Police Command on Tuesday announced a breakthrough in the fight against the menace of Badoo cult with the arrest of a suspected leader of the group and its chief herbalist, Fatai Adebayo alias Alese.
Public Relations Officer of the Command, Chike Oti, said in a statement announcing the arrest that Adebayo, 34, specializes in administering oath on members of the group before they launch an attack, was arrested at his shrine located in Imosan Village, a suburb of Ijebu-Ode, Ogun State.
He quoted the Commissioner of Police, Edgal Imohimi, as saying while parading Adebayo and other suspects that, "One of the suspects arrested confessed and he led us here (Imosan Village) that before they go for any killing, the head of the group brings them to this gentleman (Adebayo) to come and carry out oath for both themselves and the piece of stone they used for their killings and that they don't go for any killing without first of all coming for oath in this shrine and that is why we are here.
"This gentleman is an accomplice before the fact and so definitely we are placing him under arrest and as well as sealing off the shrine till after investigation."
At the shrine located at No 38, Ayegbami Quarters in Imosan, which was later demolished by policemen, different charms and big stones said to be used for the illicit activities of the Badoo group were discovered.
The dreaded Badoo cult unleashed terror in Ikorodu and its environs in 2017, killing several residents in gruesome ways.
Members of the group were notorious for killing their victims by smashing their heads with pestles.
But Imohimi believes their days of unleashing terror on law-abiding citizens are over.
"Over the weekend, we had far-reaching achievement in the fight against the killers popularly known as Badoo in Ikorodu," Imohimi said.
"Their kingpin who is the head of the group has been arrested. He was arrested on the water as he was making his escape."
The CP, who led the operation involving the Commander of Rapid Response Squad (RRS), ACP Tunji Disu; Chairman of Lagos State Special Task Force, SP Yinka Egbeyemi, among others, said investigation was ongoing and that the full details about the arrests made so far would be disclosed on Thursday at a press briefing.
He assured the people of Ikorodu, Lagosians and Nigerians that the command would not rest "until this evil is completely rooted out from Lagos State."
The CP also made a brief stop-over at the palace of the traditional ruler of Imosan Village, Chief Tajudeen Muili to intimate him of the development.