Victor Umeh Receives Certificate Of Return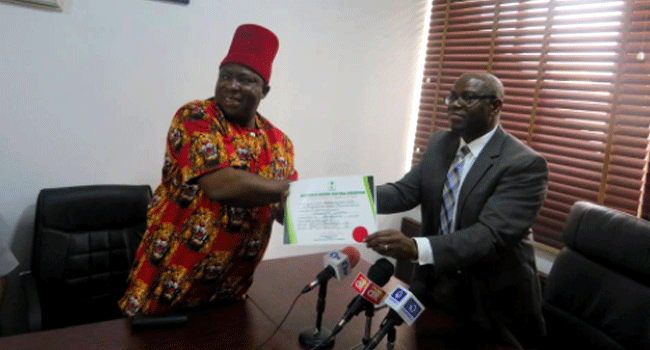 The winner of the Anambra Central Senatorial election and former National Chairman of the All Progressive Grand Alliance, (APGA), Victor Umeh has received his Certificate of Return.
Mr Umeh who visited the office Headquarters of the Independent National Electoral Commission (INEC), in Abuja on Wednesday was presented with his certificate by National Commissioner in charge of South East, Prof. Ibeanu.
Umeh swept to victory in Saturday's poll by a landslide, securing 64,879 votes. None of the 13 other contestants in the election got up to a thousand votes.
Consequently, INEC returned him as the winner of the rerun election on Sunday morning.
1. Oyeh Mercy Uche – A – 35
2. Hon. Oby Kate Okafor – ACD – 33
3. Chief Anayo A. Nweke – ADC – 57
4. Sen. Chris Ngige – APC – 975
5. Chief Sir Victor Umeh – APGA – 64,879
6. Christopher A. Chukwendu – GPN – 48
7. Okafor Ikechukwu – ID – 14
8. Chief Denis Oguguo – KOWA -12
9. Kingsley Chukwuma Nwofor – LP – 95
10. Ekweozo C. Nkem – MPPP – 111
11. Ubakamma J. Ikenna – NCP – 72
12. Rev. Charles O. Ekwueme – PDC – 5
13. Igwilo Michael C. – PPA – 116
14. Ikechukwu F. Obiekwe – UPP – 55