Security Chiefs Brief Buhari On Killings, National Security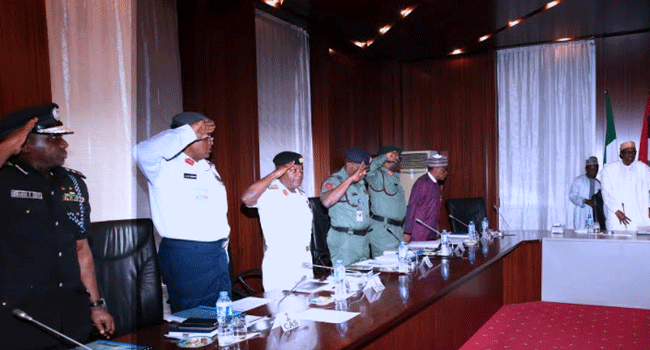 President Muhammadu Buhari has met with Nigeria's security chiefs inside the Presidential Villa in Abuja.
The Thursday meeting was held behind closed doors with the Minister of Defence, Mansur Dan-Ali, and the National Security Adviser, Babagana Monguno, leading the security chiefs to the meeting.
The meeting was held as part of efforts aimed at ending the spate of insecurity across the country.
During the meeting, the security chiefs briefed the President on the activities of their respective agencies, the Presidency said in a tweet.
Dan-Ali on his part told President Buhari of the findings made on the killings in some parts of the country.
He said, "The remote cause is part of the grazing root hereby we are in this country right from independence, there are clear roots where people pass. The issue of arms is all over. In that killing you are talking about, there are also militias that they also did the killing.
"Some people were caught with arms and they called themselves forest guards. There is no where in this country where arms are allowed to be carried apart from legitimate security forces.
"So anybody that is carrying any arm is illegal. Militias were caught on the same land doing the same killing. So the killing is not by any particular group, it is a communal issue."
He also explained the progress made on the issue of the purported purchase of 12 warplanes and weapons worth $495 million from the United State by the Federal Government.
"I the Minister of Defence with the Foreign Affairs Minister, Geoffrey Onyeama, and the American Ambassador will sit down and reduce some of those conditions," he added.
Security Meeting today, presided over by President @MBuhari. NSA, Service Chiefs, Intelligence Chiefs, IGP in attendance. President briefed on Intelligence-gathering and Law enforcement efforts across the country, by the various agencies. #AsoVillaToday

— Presidency Nigeria (@NGRPresident) January 25, 2018