Trending: Hilarious Reactions Trail 'Money-Swallowing' Snake Report
Hilarious reactions have trailed the report of a 'mysterious snake' that allegedly sneaked into the accounts office of the Joint Admissions and Matriculation Board (JAMB) in Makurdi, the Benue State capital 'carting away' N36 million cash.
After the news broke on Saturday, February 10, the social media started buzzing as many Nigerians expressed shock at the news, making hilarious comments.
An account's clerk in the office is currently answering audit queries concerning the missing money. She said her housemaid and a fellow employee had confessed to using a snake to 'spiritually' stealing the monies she kept in an office vault.
Before now, JAMB candidates purchased scratch cards from JAMB state offices and other designated centres, to gain access to the Board's website for either registration or to check their admission status but reforms were introduced by JAMB registrar Ishaq Oloyede when he assumed office in 2016.
He ended the use of scratch cards, replacing it with more efficient and effective platforms.
The board has however reacted to the report. Oloyede, JAMB Boss on Monday said that the case was that of pure criminality and fraud on the part of one of its staff.
A twitter account @Nigeriasnake has since been opened for the 'mysterious snake' with a hilarious bio which reads "I am the snake that ate N36 million from Jamb office. I will not vomit it."
See the reactions below…
#TheEagle shows no mercy for money-swallowing snake(s). pic.twitter.com/ljBJrHrZTp

— EFCC Nigeria (@officialEFCC) February 11, 2018
What kind of Snake entered JAMB's office and didn't bite the gateman or the clerk but went ahead to swallow N36 million?
Update: the snake that swallowed Jamb's money is now hungry.
So we have put it up for lease, it's ready to swallow more monies…
You can rent for day(s), week (s), month(s)..
Indicate if interested.. pic.twitter.com/7RJlw9CNDb

— Nigerian Animal Kingdom (@AnimalNigerian) February 11, 2018
Jamb students will start expecting questions like this.

Calculate how long it will take a snake to swallow 36M Naira. If the Bank notes are either in 100, 200,500 or 1000 denomination and tabulate the chances of the snakes survival using the APC formula.
RT if you want to be friends with the JAMB snake more than some human beings. pic.twitter.com/LOVQfniBgI

— Omope Abdulazeez (@Iam_Abdulaxis) February 11, 2018
All I wanted to do was to modify my Jamb score. So that Uniben can take me. But somehow I stumbled on the money and swallowed it. #thenigeriansnake pic.twitter.com/KXMdwUUEhu

— The Nigerian Snake (@d_nigeriansnake) February 11, 2018
So the Snake that swallowed 36million naira did not see all the people that work in jamb office to swallow…
Its paper…
Herbivorous snake.. pic.twitter.com/aclrjCT4ZW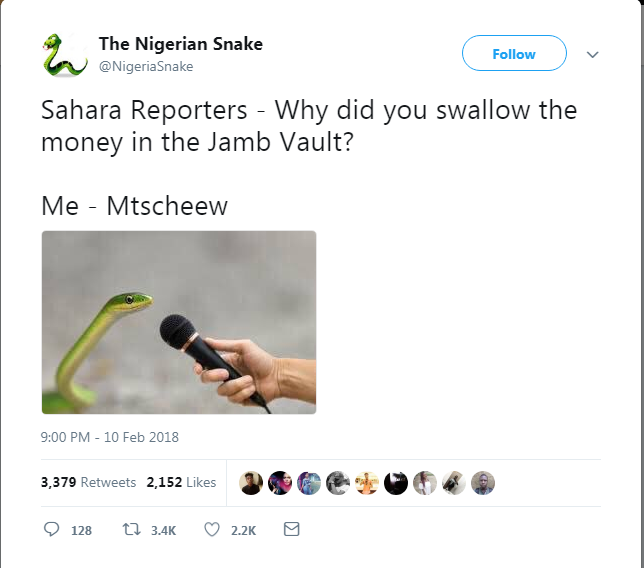 When you wake up tomorrow and find out that the same snake that attacked JAMB office just attacked Central Bank of Nigeria. pic.twitter.com/Gwz5gkCExx

— Dayor 🍁 (@kvng_dayo) February 10, 2018
The Nigerian snake entering the JAMB office to swallow the 36m 😂😂 pic.twitter.com/eBUvXBlysr

— Daddy CHO (@Chidubem__O) February 10, 2018