Buhari Asks APC Governors For More Time To Decide On Re-Election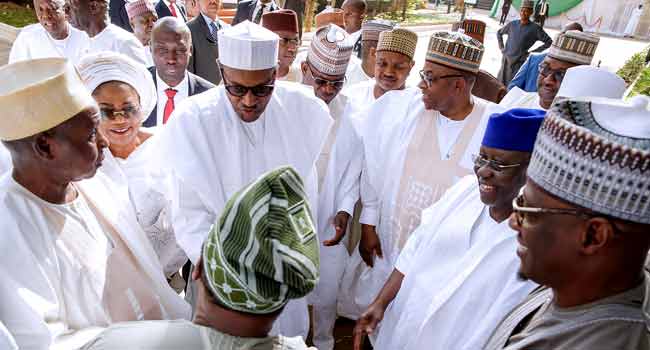 President Muhammadu Buhari has asked state governors of the All Progressives Congress to give him more time to decide whether he will seek re-election in 2019.
The President made the request during a meeting with the governors in the Presidential Villa on Thursday night.
During the meeting, the governors had called on the President to go for a second term, but he opted to carry out more consultations before deciding.
Imo State Governor Rochas Okorocha told State House correspondents after the meeting which was held behind closed doors that the governors all praised the President for his efforts and achievements so far.
For them, a second term will allow the President who swept to power promising to fight corruption, tackle insecurity and boost the nation's economy.
The President's meeting with the governors took place hours after he presided over the National Council of State meeting which had in attendance former President Olusegun Obasanjo and former Head of State, General Abdulsalami Abubakar (retd), Vice President Yemi Osinbajo, former Chief Justices of the Federation, the 36 state governors and the leadership of the National Assembly.
Thursday's meeting comes six days after the governors visited the President in his hometown Daura, Katsina State.
Although the President has yet to declare his intention concerning the 2019 elections, he recently appointed former Lagos State Governor Bola Tinubu to reconcile aggrieved members of the APC.
Several members of the party have hailed the move, saying it would help the party prepare for the general elections.
During the visit to Daura, Governor Okorocha told journalists that Tinubu's appointment was a welcome development.
He, however, said the purpose of that visit was to commiserate with the President over the loss of two of his family members.