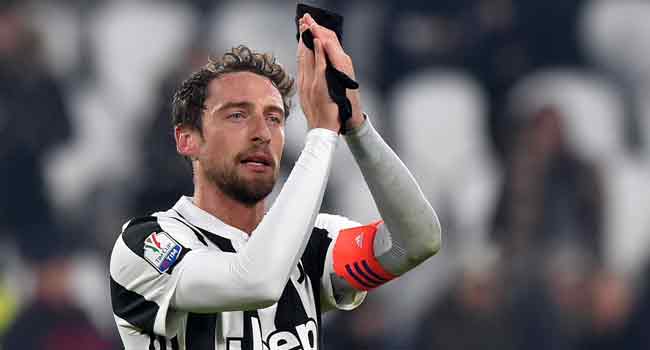 Italian international midfielder Claudio Marchisio has called time on his Juventus career after 25 years spent with the Turin giants.
The 32-year-old, nicknamed The Little Prince, joined his hometown club at the age of seven and won seven Serie A titles and four Italian Cups.
Juventus agreed to terminate the 55-times capped Italian international's contract by "mutual consent" before Friday's transfer deadline in Italy.
"A thousand thoughts and a thousand images accompanied me throughout the night," wrote Marchisio in an Instagram post accompanied by a photo that showed him playing for a Juventus youth team as a child.
"I can't stop looking at this photograph and those stripes on which I wrote my life story as a man and a player.
"I love this jersey to such a degree that, despite everything, I am convinced that what is best for the team comes first. Always. On a tough day like this, I cling tight to that principle.
"You are the most beautiful part of this marvellous story, so for that reason, in a few days we'll be able to say goodbye in a more special way.
"After all, 8 (his jersey number) is nothing but an infinity sign looking upwards."
Marchisio's only time away from Juventus was a season's loan to Empoli in 2007-2008, but he had been increasingly sidelined after a serious knee injury in 2016.
"Having had the opportunity to accompany him on this path, to discover a homegrown champion, day by day, was quite simply a privilege and an honour. Thanks for everything Claudio," Juventus said in a statement.
Marchisio made his first-team debut for Juventus in August 2006 and scored 37 times in 389 appearances in the black and white jersey.
AFP