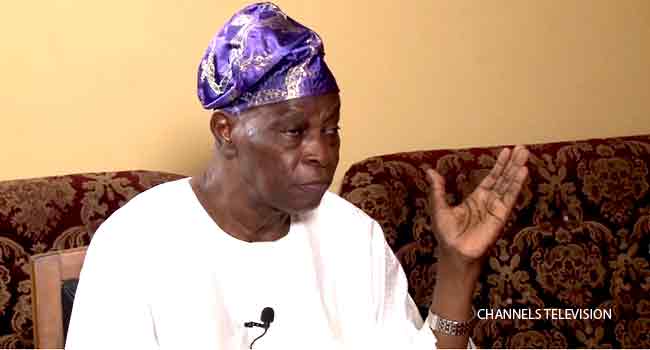 The National Chairman of the Social Democratic Party (SDP), Olu Falae, has distanced himself and the party from the pledge of support made to the All Progressives Congress by the party's governorship candidate in the Osun State.
Falae spoke to Channels Television hours after his party's governorship candidate Iyiola Omisore pledged his support and that of the party to the APC's governorship candidate Gboyega Oyetola for Thursday's supplementary election.
The SDP National Chairman, however, said he is not in support of the move.
"All I want to say is that, as the National Chairman, I was not consulted. Therefore, I am not a party to his (Omisore's) decision," Falae said. "That is all I intend to say; not a word more."
Omisore's decision to support the APC, a day before the supplementary election is held in seven polling units in the state, followed a visit to him by a delegation from the APC.
The delegation, led by APC National Chairman Adams Oshiomhole, comprised of governors and key figures in the party.
Omisore, who had been visited by Senate President Bukola Saraki, said he had opted to support the APC because the party agreed to meet the conditions he gave for his support.