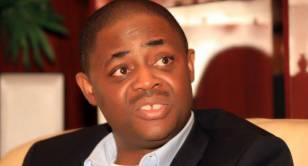 The Federal High Court Sitting in Lagos has fixed March 15, to rule on whether to admit in evidence 108 Zenith Bank cheques allegedly recovered by the EFCC during the course of investigating the case against the former Aviation Minister, Femi Fani-Kayode, and three others.
The court fixed the date after entertaining the arguments of lawyers on the admissibility of the documents.
The counsel to the EFCC, Rotimi Oyedepo, had sought to tender the 108 cheques through the third prosecution witness, Shuaibu Shehu, an investigator with the Commission.
Read Also: General Elections: Umahi Alleges Plot To Bomb INEC Council Offices In Ebonyi
But the counsel to Mr. Fani-Kayode, Mr. Norrison Quakers resisted the move, asking the court to reject the documents on the basis that they did not comply with Section 379 of the Administration of Criminal Justice Act 2015 and the Practice Direction of the Federal High Court 2013.
After listening to the parties, the court fixed March 15 for its ruling and for continuation of trial.Trial judge, Justice Rilwan Aikawa also granted a former Minister of State for Finance, Nenadi Usman, permission to embark on a trip to the United States.
Justice Aikawa ordered that the former minister's passport be released to her so she could embark on the trip.
Mrs Usman, Fani-Kayode, Danjuma Yusuf and a company, Joint Trust Dimensions Limited are facing 17 counts bordering on conspiracy, unlawful retention of proceeds of theft and money laundering.